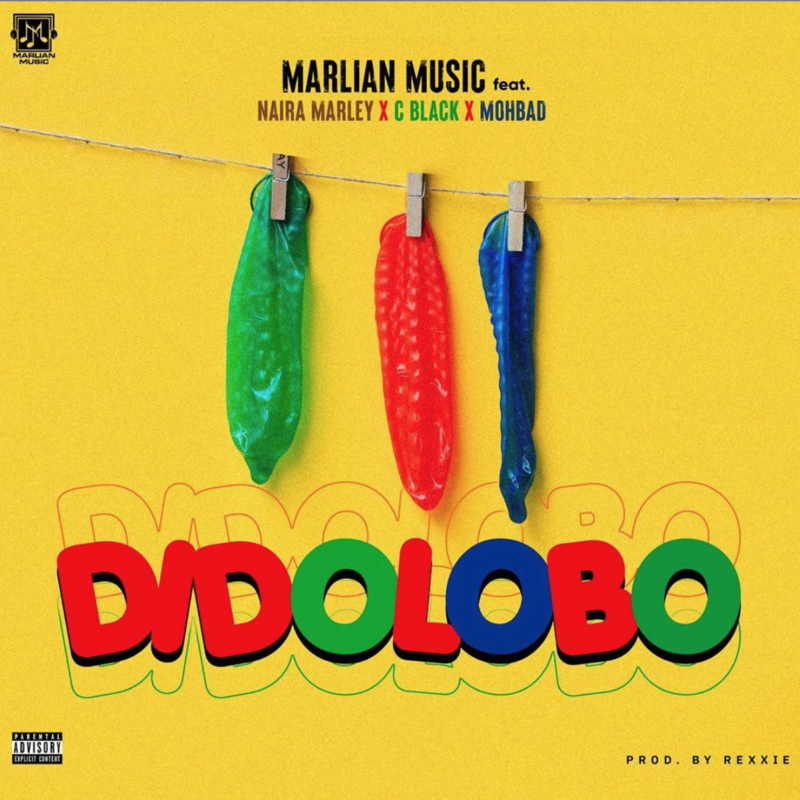 Naira Marley, C Blvck, and Mohbad join forces to deliver this new lamba tune dubbed "Didolobo".
Marlian Music releases a brand new song title "Didolobo" performed by Naira Marley, C Blvck, and Mohbad. Marlian president, Naira taps on his proteges to bless our speakers and disturb our ears this Quarantine period with a new street banger. This an Explicit record produced by Rexxie.
Naira Marley teased fans with a snippet of the track some weeks ago and it immediately garnered a lot of attention. The song already went viral before it was released. "Didolobo" is one record that comes with explicit sexual content. The track's artwork which sees three used condoms on a clothing line is enough to prepare you for the enormous amount of raw words you're about to feed your ears.
As we all know the Marlians are known for their (Omo No Mannerz) unruly code, Naira Marley, C Blvck, and Mohbad talk about the female's private parts, explaining that was it was created and it should be treated with care. This track is not for the faint-hearted – most of Naira Marley's tracks are like that too. This track reminds us again that the Marlian king is Nigeria's reigning king of raunch when it comes to music.
Quotable Lyrics : Everything de de de, Talo feku de de de, To ba ti bebebe, Ki everybody or MD kan penkele mess, Ooshey Naira Marley de de de (Marlians),C Blvck de de de, Mohbad de de de, New generation Marlians de de de, Agbo to ta di meyin, Agbara lo lo mu wa, Aguntan ti o, ba japa, Imu re a ya, Salisu o ti n fagbo, Ti iya re ba fi le gbo, Won le shepe famugbo, Epe o ma ki n mamugbo, Hello, Anyways ni na lowo
Dido lobo (a do pa)
Listen and share your thoughts below