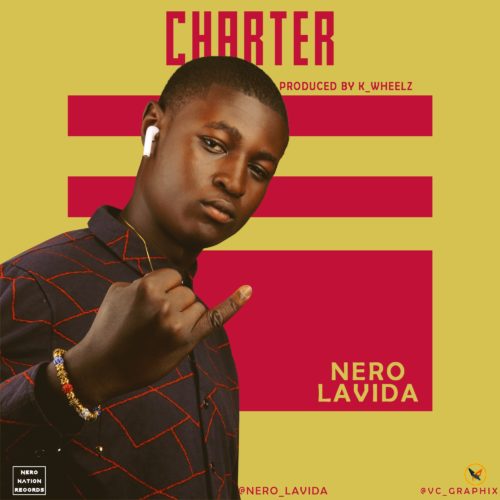 Bakare Olasegun Known as Nero_Lavida, Song writer, rapper and beat killer. Recording and performing artiste he's Young boss of Nero nation records……
He just dropped another new single tittle "Charter" the word means professionalism and the pidgin meaning means something being available in or bring in something in abundance.
Lyrics
Intro:
OGA, wo bon shenshey
Bami so oro OWO oh
Eyan tin virgin mother
I respect ma God fathers
Tan update pelu ubuntu, pele!
1st verse:
Oriburuku oni ya ile wa "charter"
Promotion in your work "charter"
Admission "charter"
Spend without budget "charter"
Stay woke "charter"
Toba collect "charter"
Shomolu "chartered"
Bariga "chartered"
Akoka "chartered"
agege wao "chartered"
A day money "charter"
Iya ni Wura "charter"
1st rap verse
I live right, dream big
OWO hustle shani main thing
Eno go finish, confirmation Issa must
Ah, aje joh, lo goggle map wawari oh.
Even if them try aje ile gan ti gba itune
(Eh)Wanti jeka ri onà lo (ah)
je ka lofo Gucci store (eh)
OSHA mon kpe payment sure
2nd verse
Gbogbo awon Eleniyan "chartered"
Olagunsoye oyinlola "chartered"
General akande "chartered"
Jamopyper "chattered"
Eyan Zlatan "charter"
Keyboard warriors "charter"
Money maker "chartered"
Secure the bag "charter"
2nd rap verse.
Saba Saba funmi ni grace ninu aiye
Saba Saba gbe mi day globe ti made
Awa kan try sheby olohun loma shey
Iwo kan bo oshishe oma gbès!
Oje focus, wanti jeka ri ona lo.
2019 no free show
OSHA mon kpe payment sure
3rd verse:
Oriburuku oni ya ile wa "charter"
Promotion in your work "charter"
Admission "charter"
Spend without budget "charter"
Stay woke "charter"
Toba collect "charter"
Mushin Olosha "charter"
Surulere "charter"
Ojuelegba "chartered"
Iloriin "chartered"
All ma pretty ladies "chartered"
Iya ni Wura "chattered"
Outro:
Itesiwaju eko
Awa ta ma sori irè
It's your boy Nero buy Rita
---