The feud between Iyanya and former friend and partner; Ubi Franklin, kickstarted a few weeks ago as a result of an interview the former had with The Juice on Ndani TV. In the interview, Iyanya revealed the alleged fraudulent and dubious activities of Ubi while they were Co-owners of MMMG record label.
Iyanya accused Ubi of theft, dishonesty, greed and a whole lot of decadence while they were business partners. And after the interview, the issue escalated to the extent they granted other interviews to address and counter eachother's statements as well as using the social media to down play whatever has been said by either of the two. It became and has become a major entertainment saga already.
Since the last Radio interview both personalities granted in separate times with Cool FM, which has been over a week now, there hasn't been much to talk about on the whole situation as both parties have decided on taking reserved approaches to the matter. This made a lot of fans think it was already the end of the saga.
However, report of another separate interviews granted by Iyanya and Ubi to a popular media platform have surfaced on the Internet. Joey Akan was able to meet the two persons in a separate interviews for The Native in which they aired their views, countered each other's views and made new revelations.
Revealing to Joey; Iyanya said Emma Nyra who is a singer and a friend to both himself & Ubi and a former signee under MMMG was a victim of assault and battery at the hands of Ubi and for sometime was never free from oppression from him because she left MMMG.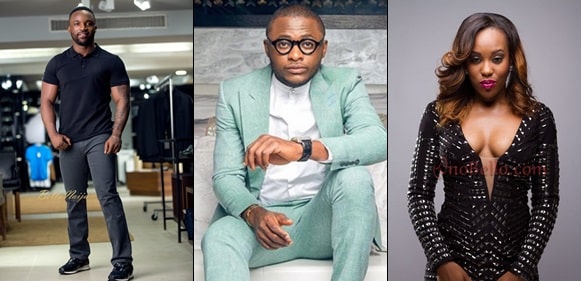 "You know, from that day till I left Triple MG, Ubi was my enemy, but we dey together. I played safe because I saw what he did to Emma Nyra. I saw how he oppressed her when she left him. You understand? I saw all the stunts wey him go dey do. You know how all these industry sh** dey be."
Joey Akan pressed further, asking how people in the label felt as regards what Emma Nyra was going through in the hands of Ubi Situation. In response to that Iyanya said, "We were not happy yeah, nobody was happy. My own advice to Emma at the time was; "Yo, if the nigga is treating you like this, I'd support you to leave," But sometimes when you give people that kind of advice, they may think you've actually been wanting them to break up since, you understand me? Instead of seeing you trying to save them. Cos I was like; "Look, this shit is getting out of hands man, we no know the next one wey go happen where they go hit your head somewhere you die." Before that time, I dey tell her say, report to your parents. let your parents step in."
After Iyanya's interview then came Ubi's. Talking about the Emma Nyra situation, he said he wouldn't say anything on the matter as he is legally binded not to do so. "We didn't agree. You see, Emma Nyra's situation, I cannot say much about it because I am binded by contract not to say anything about our situation. I am not going to say anything about it. Because if I say anything about it, I have a legal suit that I'm going to pay 10 million naira. So, I'm not going to say anything about Emma Nyra. If she does, I'd have to collect 10 million because me and Emma Nyra don't really have any problem. Even when she had the twins, we spoke. I even sent her a message. So, we don't have problems. These problems are problems Iyanya is trying to create to hype himself up," Ubi said.
After being asked if the allegation by Iyanaya that he beats Emma Nyra is true, Ubi said; "Bro see, Iyanya is a big liar. He has been saying it for many years that he is going to use Emma Nyra against me. You understand? I did every work for Emma to make sure. I'm not going to speak about Emma Nyra unless she talks. We have a contract binding us not to say anything. Why didn't he say on his interview that I beat up Emma Nyra?"
Ubi added after being quizzed with the question of Iyanya accusing him about assaulting his Ex-wife to; "Bro, I'd advise you not to. Because I would put out all the married women he slept with. Their pictures side by side for me. Bro I don't want to talk. Because if you allow me to do that to him, I'd drag him through the whole of this country. I'm not scared of shit. What I want about this matter is for people to see clarity.  If Emma Nyra has issues she would come and say it herself. Emma Nyra is a mother now. I think her focus is different. And she even wouldn't want to be involved in all this. I wish Iyanya was a father. If he was a father, most of these things he is saying he would not do it. When I kept watching his interviews I kept laughing. Bro, don't let me do this to this to this guy. If you're writing your story, take out the Emma Nyra situation because if you're writing about something like that, Emma Nyra needs to speak for herself and with the way I and Emma Nyra are tight, we cannot speak about each other. We had our whole issues and the issues were settled and I have a legal document to back it. So for me, leave her out of this and focus on something else. Write your post. See, I never really wanted to get to this point bro. For everything that happens, there are two sides to the story."
Ubi also alleged that Iyanya called him at a time when he was having issues with Temple Music (Iyanya's record label after he left Mavin) in order to help him settle it. He said "Yeah, it was a one-on-one conversation we had at his house. He showed me a heated WhatsApp chat with the owner of Temple, them. That's why I was able to believe he was having problems with Temple. When he wanted to leave Temple, I told him, 'Don't leave Temple the way you left Made Men'. Which is, relieve yourself, settle everything and go. I said, 'The fact that you want to leave Temple doesn't mean that you should fight them. It would now become constant. It can't be like it's the same thing you do everywhere you go. People would come and be putting some rubbish things around it. People you collected money from to pay your house rent when your landlady chased you out. They gave you a car. You were stuck in America they paid for you. Have you spoken to Temple? Ask Iyanya if he told me that he had issues with Temple and he needed to clear up his contract with N60 million. Ask him if he told me that."