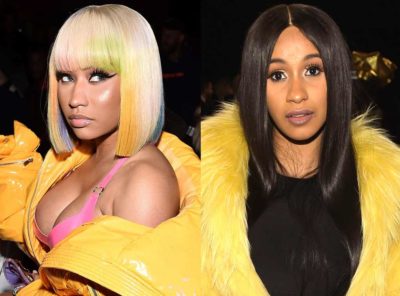 Nicki Minaj and Cardi B finally seem to have settled their beef after months of savagely having a go at each other on social media. The beef though got heated after Nicki on the latest installment of her Beats 1 show addressed the issue.
Discussing their fracas at a Fashion Week party in September, Nicki said that Cardi B had been attacked by Rah Ali, a friend of Nicki's who was also Cardi B's co-star on "Love and Hip-Hop" rather than hit by security, as had earlier been claimed.
Nicki Minaj said Rah Ali punched Cardi B in the head "9 or 10 times". Nicki then offered $100,000 to anyone who can come up with footage from what happened at the event.
This actually angered Cardi B, who then went on a series of rants via her Instagram page calling out Nicki Minaj, her fans and friends. See video here
But it looks like the two rap stars have found the beef tiring and are looking for a more profitable future ahead as Nicki Minaj went on twitter to post about focusing on positive things and moving on from the beef.
It seemed like Cardi co-signed the tweet as she screen grabbed it from Nicki's twitter page and posted it on her own Instagram page with the caption "@Nickiminaj alright then! Let's keep it positive and keep it pushing!".
See below
Editor Rating

Rated 3.5 stars

Very Good
---
Nicki Minaj Calls For Respite After Cardi B's Rants

Reviewed by:

Published on:

Last modified:
---
---