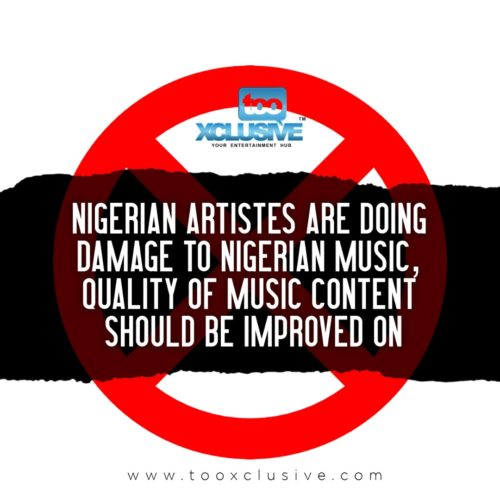 Imagine if "Soapy" was released in the times of Sunny Ade, Ebenezer Obey, Onyeka Owenu, Oliver de Coke? Try to imagine the chaos and pandemonium that would have erupted from the society? Disastrous? This makes me wonder what the music industry has turned to over the years
No doubt, the music industry has achieved an enormous success worldwide and is unarguably one of Nigeria's biggest job-creating sectors today as it creates opportunities for youths like event management, DJ services, music/movie production, and so on. This has immensely contributed to the economy at large.
Nigerian artistes have succeeded in embracing the foreign culture, incorporating Nigerian elements to produce a vibrant and lively sound that has become immensely popular among the youths. Not only are the beats unique, but languages are combined to create special effects.
However, the major issue here is the type of music discharged to the public. Let's call a spade a spade, today, content doesn't sell music. Majority of the music consumed by music lovers are filled with profanities and a lot of crap that should never be played in public. These days artistes go into the studio and with the help of a little Kush, drinks and a danceable beat, they convince themselves that they have made a "hit".
If the song isn't about a woman's 'front and back' (breasts and butts), it will be about wild partying, drunkenness, smoking, and most of the time, it is disgustingly about immoral sex. Nowadays, some artistes have gone bonkers by dishing songs that promote fraudulent activities, advocating masturbation and other dirty sexual deeds.  Let's not even go into details about the visuals of these songs.
Since vulgarity and sexuality have become the order of the day in the music industry, one would seem very odd and old-fashioned if one's music is sane and has a positive message. But only a few music artistes have not swayed with the direction in which the music industry is headed.
They have successfully carved a niche for themselves and it can be boldly said that they are recognized not only in Nigeria but to the world at large. These few have been able to help us not to completely dissociate from reality and continuously give us a feel of real life.
So what really makes up a good composition of music?  The lyrics of the music of the older generation were rich. Songs from these artistes were filled with good content that addressed real-life, issues facing the country ranging from politics, education and so on. There are so many lessons to learn from their songs which are why they have continued to remain evergreen. Music should be created solely to motivate, give value, showcase culture, and education.
There is absolutely nothing wrong in making songs that are danceable or relatable but let's be guided because the majority of the consumers of music are the youngins. These are the future leaders of tomorrow like we like to proclaim and whatever is being dished out is what they take in. This is quite sensitive and it is worthy to note that music has a lot of power. It has the power to change our thoughts, reasoning, and mood.
On an ending note, how great would it be to wake up to the sound of good music with very good content? Trust me; it wouldn't kill us to make good music. I believe that the music scene in Nigeria still has a long way to go in terms of creating songs with rich content which would awaken our sense of reasoning.

"Nigerian Artistes Are Doing Damage To Nigerian Music, Quality Of Music Content Should Be Improved On", 4 out of 5 based on 13 ratings.
---