[youtube]Insert video URL or ID here[/youtube]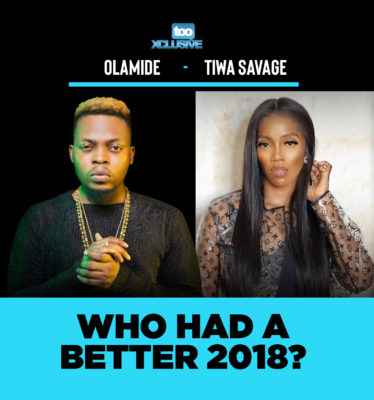 2018 has been a very good year for both Olamide and Tiwa Savage musically, they have both dropped hit songs, featured on hit songs and as well as achieved a lot in other areas.
But in as much as we wouldn't like to compare their achievements this year, circumstances beyond control has led us into falling into the temptation of doing that. And yes, we are comparing them!
OLAMIDE
Baddo started the year with the first hit of 2018 in "Science Student," which immediately became a street anthem. After the release of "Science Student," Olamide dropped a lot of songs that did fairly well. The likes of "Criteria," "Logba Logba" etc. He was also featured on songs like "Issa Goal Remix", "Popping", "See Mary See Jesus", "Bam Bam", "Onyeoma" then "Double Double" among others.
But the turning point of 2018 for the YBNL boss after his earlier hit was his collaboration with Wizkid on "Kana" which gained immediate attention. The song gained massive airplay and did justice to the minds of the regular party riders. Not stopping there, Baddo dropped another certified street banger "Motigbana" which smashed music charts to pieces and it still currently buzzing speakers.
Baddo then wraps it all up with his last single of the year "Poverty Die"
A very good year for Olamide indeed who recently dropped the "YBNL Mafia Family" album, these shows the high level of hard work.
TIWA SAVAGE
Tiwa has done enough to cement her place as the queen of Afro-beats in 2018. Just like Olamide, Tiwa Savage asserted her presence on a street jam at the beginning of the year. She appeared on DJ Enimoney's "Diet" and not being intimidated by the presence of the real street bred on the song, she confidently added juice to the song with her tiny but beautiful voice.
After "Diet," she's dropped songs that did fairly well too, the likes of "Tiwa's Vibe," "One" etc were well accepted across the industry. However, her major highlights of the year was winning the "African Artiste Of The Year" at the  MTV EMA's, setting a record as the first female African artiste to achieve such and also her appearance as a vixen on Wizkid's "Fever" video which directed a lot of criticism and appraisal towards her.
After all these, some fans still feel Tiwa Savage should be ranked first before Olamide this year when it comes to picking the "Artiste Of The Year."
Judging from what they have have both achieved this year, who do you think has done better between both artistes in 2018 and who should be ranked first?
Drop your thoughts in the comment section below.