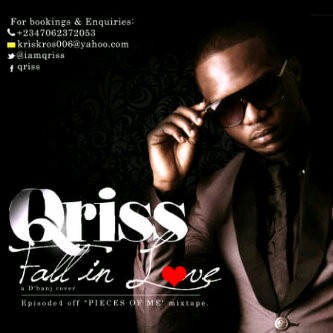 Qriss, the versatile entertainer definitely means business with his fourth episode off his 'Pieces Of Me' mixtape, a cover of D'banj's FALL IN LOVE. In this lyrically smoking entrée, one finds his style intensely endearing and amusing so much so that D'banj may have to renounce his 'kokomaster' title since Qriss would be amassing most of his kokolettes henceforth with his engaging delivery and personality. Lol !
Qriss's consistency in the art is highly commendable and really makes one wonder as to whether the entertainment scouts are on a sabbatical.
Get familiar…. .. … the revolution has begun.
[audio:http://tooxclusive.com/wp-content/uploads/2012/08/08-Fall-in-Love-A-DBanj-Coverwww.tooxclusive.com_.mp3]
---