EVAEZI is an AFRO SOUL FUSIONIST with 6 years of professional singing under her belt as well as a long line of award nominations dating back from her inception into the music industry till date. This full bodied, sensual Diva has just recently undergone a total rebrand from her former stage name EVA (D'DIVA) to EVAEZI. She is a walking miracle; after surviving a motor accident in 1997 that left her voice box shattered, her trachea narrowed and her cervical bones (bones in the apex of the spine) fractured, she has still managed to continuously make a lasting statement with her unique sound.
EVAEZI has been nominated for numerous awards like:
BEST CONTEMPORARY VIDEO OF THE YEAR (Nigerian Music Video Awards 2007)
BEST CONTEMPORARY VIDEO OF THE YEAR (Nigerian Music Video Awards 2008)
BEST CONTEMPORARY VIDEO OF THE YEAR (Nigerian Music Video Awards 2010)
BEST FEMALE VOCAL PERFORMANCE (HipHop World Awards 2010)
BEST SOUL / NEO SOUL ACT OF THE YEAR (Nigerian Entertainment Awards 2010)
MOST PROMISING ACT TO WATCH (Nigerian Entertainment Awards 2010)
RECORDING OF THE YEAR (The 2011 Headies)
BEST FEMALE VOCAL PERFORMANCE (The 2011 Headies)
BEST R&B (FEMALE) (SSMA  South South Music Awards 2011)
BEST VOCAL PERFORMANCE (SSMA  South South Music Awards 2011)
She is also the voice and brains of a number of radio jingles we have heard over time on the radio. Some of the brands include:
-VMOBILE- O'NOODLES
-STARCOMMS STARTUNEZ- VIJU MILK
-FCMB 2007 CHRISTMAS JINGLE- DIAMOND BANK
-SKYE BANK S.K.Y.E CAMPAIGN.
EVAEZI is a writer and has also done some writing for a couple of Magazines.
She loves children and as a part of her 'give back to the society' personal project, she engages in public speaking; counseling and motivating youths; especially young women amongst other things. She is currently working with a couple of NGOs who are on a campaign against breast cancer.
EVAEZI is also becoming quite popular with her rather distinctive version of The Nigerian National Anthem which has earned her riotous ovations at THE PREMIERE OF 'ACROSS THE NIGER' by Kinglsey Ogoro in Leicester Square, London 2007, THE NIGERIA MUSIC VIDEO AWARDS 2009, THE GREEN BALL 2010, SISI OGE 2011, THE LATE CHRISTY ESSIEN IGBOKWE TRIBUTE NIGHT 2011 and countless others as she captures both the old and new glories of Nigeria.
EVAEZI is currently worked on an "exclusive" EP titled "WHISPERS", a prequel to her album titled THE CORE OF ME for an international and intellectual audience. Quebex Met with this amazing personality and they talked about her music.
•• Can We Meet Evaezi? And Why Evaezi? How did the name come about?
Evaezi: EVAEZI's full name is EVAEZIHIFUE OGORO which means 'A pure heart is the antidote for evil' (paraphrased)…. I just had to chip that in cos i feel like one Guru anytime i tell folks the meaning of my name and they go "Woooow…that's deep" lol. Evaezi is a Nigerian singer; a contemporary soul fusionist and a graduate of the University of Lagos, with a degree in English (Arts). She was formerly known as EVA D'DIVA but changed to her native name for a more distinct international signature/identity. She hails from Delta state… YES! na konk niger deltan she be lol. Her mother is Urhobo and her Father is Isoko… soooo na for we house the niger Delta boys dey come do area meeting lol.  Evaezi is the 4th of 5kids. She has a sister and 3 brothers. Evaezi is an enigma. She is a romantic. She is very playful and jovial and at the same time, quite shy and reserved. She looooves kids and watching movies. She is a practicing Christian and is a devout lover of Life, art and God.
I Dont Give A Fuck Ft. Blaise, Mtrill, Cyrus Tha Virus & Modenine
[audio:http://tooxclusive.com/wp-content/uploads/2011/11/Evaezi-I-Dont-Give-A-Fuck-Ft.-Blaise-Mtrill-Cyrus-Tha-Virus-Modenine.mp3|titles=Evaezi – I Dont Give A Fuck Ft. Blaise, Mtrill, Cyrus Tha Virus & Modenine]
•• Briefly describe Evaezi's Background and Academics?
Evaezi: Like i said, i was veeeeeery shy in my early years and that is because i used to be bullied by my peers who told me i was ugly and looked like a man because my feminine parts didnt develop as fast as theirs did. So i was uncomfortable in my own skin. I found comfort among my brothers and their friends, thus i became somewhat of a Tomboy in school LOL. I did my primary school in FOUNTAIN NURSERY AND PRIMARY SCHOOL, Surulere. I did my secondary school in FEDERAL GOVERNMENT COLLEGE, IJANKIN and then my University in UNILAG. I was an average student and that was probably because i hated school because of the emotional and psychological bullying… lol LOVED English and Literature.. Dreaded MAths.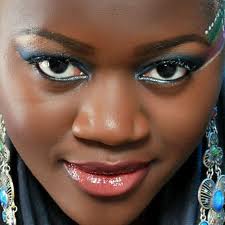 •• As a kid, What type(s) of music interested you? And when did music become a part of your life?
Evaezi:  Hmmmmmm…. I fell inlove with Whitney Houston at a very young age… so everything Whitney was my obsession and then ofcourse, there were the SWV (Sisters with voices), XSCAPE, Toni Braxton. I tended towards music that carried singers with STRONG unique voices. Anita Baker was also another singer i was drawn to. Music chose me…. i didnt choose it. I watched a whitney Houston's performance at the main bowl stadium and i was mesmerized. There was a magic about her, her voice… a presence. I got goosebumps and it was then..at that moment that i knew that music was gonna be part of my life forever because i have always had a dream to change the world and at that moment, it hit me that THIS was how i was gonna do it. Ever since, i started annoying everyone by singing EVERY minute and EVERYwhere i could.
The Break Up Song
[audio:http://tooxclusive.com/wp-content/uploads/2012/02/03-The-Break-Up-Song.mp3|titles=03 The Break Up Song]
•• I have listened to your new song titled "The Break Up Song", great tune I must say. What motivated Evaezi to do that?
Evaezi:  I wanted to do something for Valentine and i didnt want the usual boring love songs. I wanted to right something real… something hard core… a part of love that folks just dont wanna accept exists, which is 'Breakups' or 'love lost'. I see my music as therapeutic. Ladies write to me and tell me how 'The Break Up song' helped her move passed a painful breakup she was battling with and i felt really happy for her because that was the whole aim of The Break Up Song. Not to wallow in regret and self pity, giving up on love because someone was foolish enough to  give up on you.
•• From "Better Than Her" to "IDGAF" to "The Break Up Song", what's next?
Evaezi: I have a 7 track EP that is out. I released it on Valentine's Day called WHISPERS: Love and Other Things. We are currently promoting it with a series of intimate shows AND at the same time, we are working on the LP. I am really excited about that. I am also embarking on a major project for Widows, Housewives and young girls who dropped out of school, prostitutes and the likes. We wanna get them off the streets, train them and help them get honest jobs… jobs they can be proud of. We are changing the world bit by bit *smiles*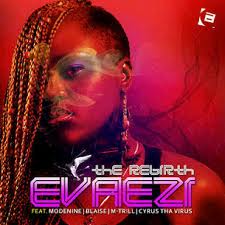 •• How would you describe your type of music to someone who's never heard it?
Evaezi:  I am a CONTEMPORARY SOUL FUSIONIST. There is a strong element of SOUL in my songs and in the delivery BUT i like to mix soul with other genres. The BreakUp song is kinda like FUNK and SOUL. IDGAF is HIPHOP and SOUL. So… i like to put a bit of soul into whatever type of music i am working with.
•• Where was your favourite performance on stage?
Evaezi:  Hmmmmmmmmmmm….. Dem plenty oooo. I cant pick out a specific one. Hmmmmmmmmmmm Let's see. Ok… there was a Theatre Open Mic i performed at recently in Lagos. The place was packed. I performed 'The BreakUp Song' and a couple other songs that i had written and folks were in tears… grown men were weeping over this one song i wrote about the relationship i have with my father LOL and then…. when i was done, i got a 10minute standing ovation. I left the hall for like 5minutes, i came back to get my bag and when they saw me, they got up and resumed the applause, interrupting the next performer who was doing her thing. I felt DIVINE and Overwhelming humbled for lack of a better word *smiles*
•• Which record label are you signed to?
Evaezi: I am not under any record label for now. I have been flying solo for a while now
•• Is there an Artiste, Director or Producer you want to work with that you have not yet had the opportunity to work with?
Evaezi: MARY J BLIGE!!!!!!!!!!!!!!!!!!!! She is an amaaaaaaaaaaaazing singer and a wonderful performer. I wanna learn at her feet LOL Cobhams, a very good friend of mine, is someone that i would also love to work with. We just havent found the time to sit down and just connect.
•• You have been regular in the music scene, how's it been? And What challenges did you face doing your music?
Evaezi: Music in Nigeria is competitive in ALL THE WRONG WAYS. It is being celebrated for ALL THE WRONG REASONS and We have alot of folks just rushing into it as an escape route as opposed to going to school and facing the real world out there. So the REAL talents who might not have the resources to promote and distribute, end up getting drowned and suffocated but the 'fly bys' who do. And then, because alot of people see this as their MAIN source of income, they are pressured to do what everyone is doing in order to make earns meet. I 'used' to battle with that in the past BUT whn i came out of that drama by caring less about what the world expects of me and paying more attention to what i expect from myself… my music started to make more sense to me and folks started feeling it because they could feel the originality in it.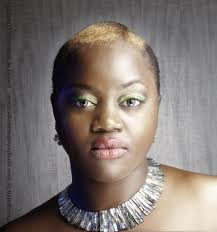 •• What do you like to do for fun outside of working on music?
Evaezi: I looooooooooooooove watching Movies and just hanging out with my friends. I am a family person. I love the comfort of home and great company. Give me that and i would be the happiest person alive.
••Am sure your fans will like to know who your role model in the music world is.
Evaezi: My role Model in the Music world is The Late Whitney Houston, before all that Bobby Brown drama, Anita Baker, Patti Labele, Mary J Blige
•• Aside from talent, what qualities in an artiste really stand out for you?
Evaezi: The qualities of an artiste?? Hmmmmm.. Humility, Originality, Professionalism, Character, A Presence ( not necessarily one of grandeur)
•• how important is music to you? And how long do you plan to make music?
Evaezi: Like i said, I didnt choose Music, MUsic Chose me. I am gonna use it to change the world. Soooooooo…… Music and I are gonna be together for a veeeeeeery long time. You will be hearing more of us
•• Where do you see Evaezi in the next 5years?
Evaezi: 5 years from now, EVAEZI will be a global brand, an international ambassador for women and a grammy recipient by God's special grace.
•• What's your advice for the young, up and coming musical artistes? 
Evaezi: My advice to young artists is that they enter into this industry for the right reasons. You need to know where you belong and if you are sure that music is for you, STAY FOCUSED!!!!!!!!! DO NOT LOSE YOUR IDENTITY AND PURPOSE, no matter how heavy the pressure is. The good Lord rewards determination and tenacity. Do not give up and do not be caught up in the Politics of the game / industry and above all.RUN WITH GOD as my mother always tell me *smiles*
•• On behalf of myself and Tooxclusive.com, I say Thank You Evaezi for Granting this interview.
Evaezi: No, Thank you for the honour and privilege of allowing me reach out to my fans through you guys at Tooxclusive.com. May God bless you all, may He bless your hustle and your muscle… may He bless your front and back and make you a shinning beacon of hope to others.
Warmest Regards
•• Amen.
You can follow Evaezi on Twitter: @I_AM_EVAEZI, www.reverbnation.com/evaezi and Email: [email protected]