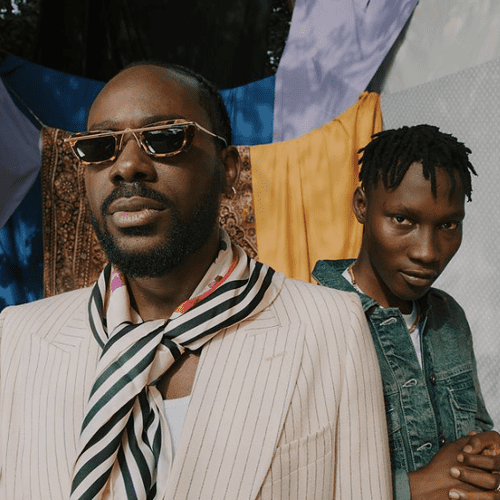 Released in March 2023, 'Party no dey stop' by Adekunle Gold ft Zinoleesky is a heartfelt expression of how far God had brought the singer and how he is thankful for every success he has achieved. The song focuses on the obstacles the singer has gone through as a result of his destiny and how it has changed his life for the better.
Adekunle Gold ft Zinoleesky's Party no dey stop emphasizes how much the singer appreciates what God has done for him. In the song, he talks about how his mother prayed for his success and how this dream has come true. He expresses his gratefulness that God has fulfilled her prayers and made him a superstar. The singer is also thankful for the many prospects he has been blessed with and he even threatens that anyone who wishes ill for him or speaks ill of him will be met with thunder and fire.
In addition, Party no dey stop by Adekunle Gold ft Zinoleesky expresses how the singer has gone through many difficult times in his life both public and private. However, despite the hardships, God has consistently stayed by his side and supported him in every way possible. The song speaks to us that we should always be grateful for what we have and for any success we achieve in life, and never forget where we come from and the people who supported us.
Overall, Party no dey stop by Adekunle Gold ft Zinoleesky is a beautiful song that speaks volumes about the power of destiny, faith and gratitude. It serves as a reminder to us that no matter where we are currently in our lives, with the help of God and consistent efforts, we can achieve great things with relative ease. Therefore, the song is a powerful piece of art that carries a positive message with it. It encourages us to always be thankful for whatever blessings we have in life and aspire to do even better.
Relatability
Adekunle Gold ft Zinoleesky's song 'Party No Dey Stop' is one of those songs that has an instant effect on us. It reminds us of our own experiences and the times when we wouldn't have made it without the help of God. The song speaks of a time when a person didn't think he could continue, but then God stepped in to help him.
The song is so relatable because we have all faced similar situations in our lives. It teaches us a valuable lesson that no matter what our circumstances may be, God is always there to pick us up and carry us through. Nobody else can do this for us, and while it may sound cliché, people often make mistakes and can't be trusted 100%.
As well as this, the song expresses how it's important to stay strong even when the party seems to be over. We must remember that it's not a situation that will last forever and that we will eventually be able to move forward and grow. This is a message that many of us need to hear, and Adekunle Gold ft Zinoleesky have put these words into a song that we can't help but sing along to.
Delivery
Adekunle Gold ft Zinoleesky's delivery on Party no dey stop is truly amazing. This song will soon become an anthem among music lovers with its infectious vibes and powerful delivery. The vocals of Adekunle Gold ft Zinoleesky are soothing and captivating, which enhances the overall feeling of the song.
The duo combines their individual styles to create a unique sound that resonates with people from different backgrounds and genres. Their harmonious melodies and upbeat rhythms provide a party-like atmosphere that is refreshing and uplifting. The song represents the idea of celebrating life and its moments of joy, as it encapsulates the essence of a memorable night.
Adekunle Gold ft Zinoleesky truly gives their all in this song, with their vocals and delivery blending together perfectly. Zinoleesky's smooth, soulful delivery really steals the show and Adekunle Gold's vocals are complementary to the beat. The duo demonstrates their perfect combination of vocal arrangements, coupled with their dynamic lyrics, to create a sound that is truly irresistible.
Replay value
One of the reasons why this song will achieve a large-scale replay value is due to its global vibes. The production on the track transcends culture and genre, treading the line between Afrobeats, Hip-Hop and even a bit of Pop. It has that distinct quintessential sound of Afrobeats mixed with Western Pop qualities that make it so universally popular. It is not too traditional or too futuristic; just an easygoing song that anyone can listen to with ease.
Rating
Delivery: 1.7/2
Lyricism: 1.8/2
Relatability: 1.7/2
Mixing and Production: 1.2/2
Replay Value: 1.6/2