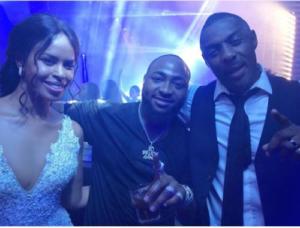 Davido's international manager and co-owner of Stealth Management; Efe Ogbeni has revealed how Hollywood actor; Idris Elba requested that Davido come give an impromptu performance at his wedding in Morocco to surprise his wife without anyone having any knowledege of the move.
Efe Ogbeni who alongside Vanessa Amadi is the manager of Davido revealed on his Instagram page that the Idris Elba request was a tough one because Davido was suppose to headline a concert; "COMING TO AMERICA" in Washington DC the next day.
He revealed they thought about it and decided to get Davido on a private jet all the way from the United States to Morocco, he revealed even while in the rush, Davido lost his suits and some of his luggage.
He revealed they were eventually successful with the with the operation without the knowledge of any one and Idris Elba's eventual wife; Sabrind Howre, was truly thrilled.
Efe Ogbeni wrote; "Efe l want kid bro @davidoofficial to come surprise my wife, this CANNOT leak, and we can't have anyone know " mygoodness, @missamadi, myself @ronawigs 2.0, @oronde had to do major operation.
"Missing luggages, wrong suits, 16 hour flights, pj.. OBO  did his thing, and boy got @sabrinadhowre (Idris Elba's wife) surprised …. powered by @stealthmgt "always for fam, we take that seriously
"Davido I share footage later, stingy with my stuff, all these blogs ripping my footage and no credit . Done with that .  we should be able to sue for that you know."
Major moves, kudos!
---