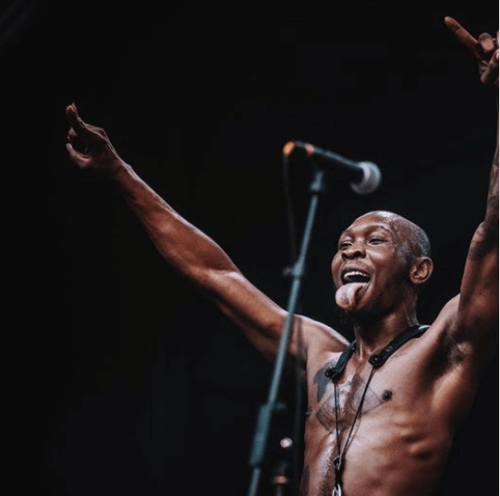 Award-winning singer, Seun Kuti is yet to get a response from the government regarding the "SexForGrades scandal and he's not very happy about it.
Just a few weeks ago when the scandal broke the internet, Seun Kuti called out The Academic Staff Union of Universities (ASUU) and the Minister of Education, Adamu Adamu for failing to speak on the scandal. However, both parties refused to address the issue and Seun Kuti has voiced out his concern for a second time.
In a series of tweets, the singer called out the Minister again for keeping mute on the "SexForGrades" scandal. According to him, the politicians have failed to speak up because their own children are not involved. He also advised Nigerians to wake up and fight for a change.
OGA ADAMU ADAMU NO TINK WE D PEOPLE DON FORGET SAY WE NEVER HEAR FROM U REGARDING GOVT POSITION ON D "SEX FOR GRADES" NATIONAL SCANDAL. OGA ADAMU ADAMU, U CAN RUN BUT U CAN'T HIDE, WE D PEOPLE MUST HEAR D GOVT POSITION ON DIS "SEX FOR GRADES" NATIONAL DISGRACE SCANDAL
DEM ATTACK APC OGA OVER D WEEKEND, QUICK QUICK WE HEAR FROM D DEPUTY SENATE PRESIDENT, BUT LECTURERS DEY ABUSE OUR YOUNG LADIES FROM AGE 17YRS AT UNIVERSITY, UP TILL NOW WE NEVER HEAR FROM D GOVT NOR NASS. MY PEOPLE, DO DIS RULERS CARE ABOUT US OR DEM ONLY CARE ABOUT DEMSEFS?
WEN D POLITICIANS WAN DO DER MAGOMAGO SELection DEM GO COME DEY BEG UNI STUDENTS TO GO CAMPAIGN FOR DEM, NOW DIS SAME STUDENTS ARE BN ABUSE BY DER LECTURERS AT UNI, WETIN DIS POLITICIANS DO, DEM KEEP MUTE LIKE NOTHING HAPPEN, MY PEOPLE WAKE UP AND SABI SAY UNA NO GET LEADERS O
BECAUSE MOST OF DIS POLITICIANS PIKIN NO DEY OUR UNI FOR NAIJA DEM NO SEND ABOUT DIS "SEX FOR GRADES" NATIONAL DISGRACE SCANDAL, IF NA DER PIKIN LECTURER DEY ABUSE SEXUALLY FOR GRADES NOW, WE FOR NEVER HEAR WORD FINISH
See the tweets below: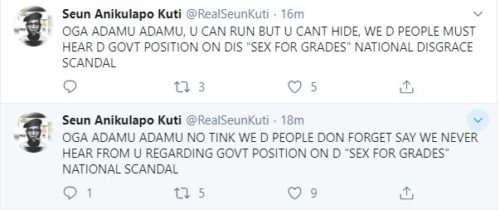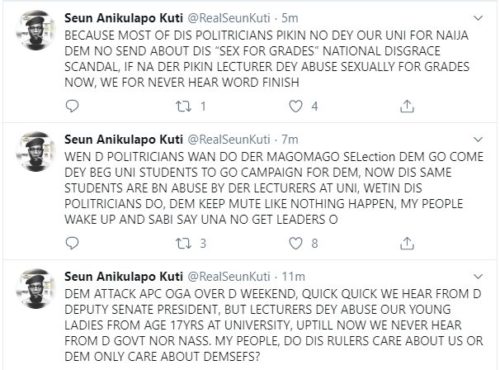 "Seun Kuti Calls Out Minister Of Education Again For Failing To Address "SexForGrades" Scandal", 5 out of 5 based on 1 ratings.
---