Last Updated on Jun 9, 2021 | 08:53 by Tomiwa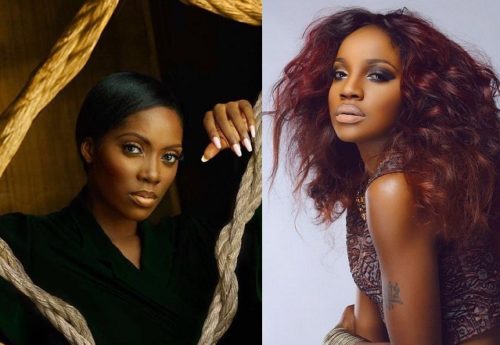 Nigerian singer, Seyi Shay has shared her reasons for walking up to Tiwa Savage and what apparently led to their confrontation.
Recall, African Bad girl Tiwa and Seyi Shay found themselves trending after Tiwa Savage dragged Seyi through filth when the latter walked up to her to say Hi at Tayo Cuts Salon in Lekki. Apparently, Tiwa Savage is still pissed at Seyi for all the negative things she and Victoria Karmani said about her years ago and her diss to Tiwa under the disguise of the fuck you challenge (See post here).
Reacting to this, Seyi Shay in an exclusive interview with Pulse Nigeria disclosed she walked up to Tiwa as a result of pressure.
According to Seyi Shay, she went to Tayo Cuts Salon to get her hair done for her appearance at Nigerian Idol this coming Sunday and unfortunately for her, Tiwa was also getting her hair done. She admitted she initially wanted to ignore her and go about her business, but people who knew their history were already staring at them and she got up to greet her in order to ease the tension.
"So I walked into the saloon and I saw Tiwa, As I saw Tiwa, I sat down and said let me just Chill. Let me just maintain my distance, cause you know people in the salon were already looking at us and actually, that was what made me stand up and go greet her….
I could see that people were already looking at us and no, i could let them feel like there was something wrong, do you understand? So I went up to her, just tapped her on her shoulder and said 'Hi how are you?' And Tiwa just responded and said Hi too? After that we just exchanged glances and pleasantries and I went back to sit down.
And 20 minutes later, Tiwa came back to where I was and she said, "Seyi, in your dirty stinking life never ever greet me outside again" so I apologized and informed her I won't, but she still continued to scream"
Speaking of the insults Tiwa Savage rained on her, Seyi Shay revealed that Tunde Ednut is biased and didn't really post the full clip of what happened at the salon. According to Seyi, She stated that Tiwa Savage insulted her, body shamed her and called her Barren. Seyi Shay disclosed that she had suffered a miscarriage which really affected her reproductive system and she might never have children again. However, Tiwa decided to rip the bandage off her wounds and poured salt on it and this really hurt her feelings.
Seyi Shay also revealed that Tiwa Savage stole the hit song, 'Lova Lova' from her and failed to give her writing credits. Seyi claims she called Tiwa Savage for her credits, but Tiwa turned her down.
She finally revealed that the reason for Tiwa's anger and for their longtime beef is Kizz Daniel's Fuck Challenge. According to Seyi Shay, she hasn't released a diss track about Tiwa and when she eventually does, Tiwa will be really pissed.
Seyi Shay once again slammed Tiwa Savage for using her only son, Jamil to swear for something as petty as their beef. She based her actions as stupidity and stated that mothers don't use their sons name for such act.
All these information was gotten from her Exclusive interview with Pulse… You can listen to it below
View this post on Instagram