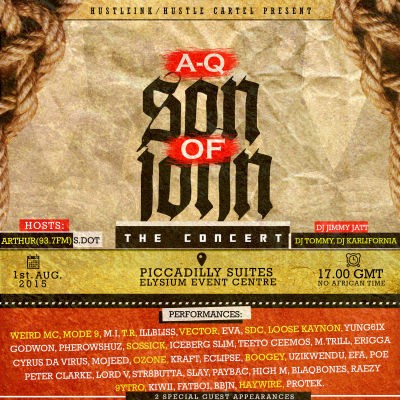 It's no longer news that talented rapper A-Q dropped the SON OF JOHN ALBUM and his about to make history by putting together a Hiphop concert.
A concert that would see the likes of 
WIERD MC, MODE 9, M.I, T.R (TERRY THA RAPMAN), ILL BLISS, VECTOR, EVA, SDC, LOOSE KAYNON, 
YUNG 6IX, GODWON, ICEBERG SLIM, PHENOM, AJEBUTTER, PHEROWSHUZ, SOSSICK, TEETO CEEMOS, M.TRILL, CYRUS DA VIRUS, 
ERIGGA, PRYSE, MOJEED, OZONE, KRAFT, ECLIPSE, BOOGEY, UZI, EFA, POE, PETER CLARKE, LORD V, PAY BAC,DJ JIMMY JATT, 
DJ TOMMY 93.7 FM, DJ/VJ SHABSY SOUNDCITY OFFICIAL DJ, DJ KARLIFORNIA, DJ SENSEI LO AND DJ VISE, AWESOME ARTHUR 93.7FM
 AND S.DOT AND MANY MORE in the same building in one night has got a lot of hiphop heads talking, up and coming rappers have also revealed their concerns saying
the concert has not made them a part of this historical event; in response to that A-Q and his Hustle Ink imprint has put together a cypher competition.
The competition which is in partnership with us at Tooxclusive.com  would see rappers download a beat provided by BEATS BY JAYY and rap on it for two mins. there are no rules 
to the content you can place on the beat, any form of recording is allowed as long as you are audible. 
5 people would be selected and would perform their recordings on the event, a winner would be selected by the crowd and would be presented with gifts from the events sponsors and media partners,
there would also be more prices by A-Q and some of the artists on the bill it promises to be worth more than money". 
ENTRIES CLOSE ON THE
30TH JULY 2015
. All entries should be sent to
[email protected]
best wishes and may the best man win
Get the P.O.R.N Instrumental below
---