Olamide Infinity Omah Lay, Produced by P.Priime.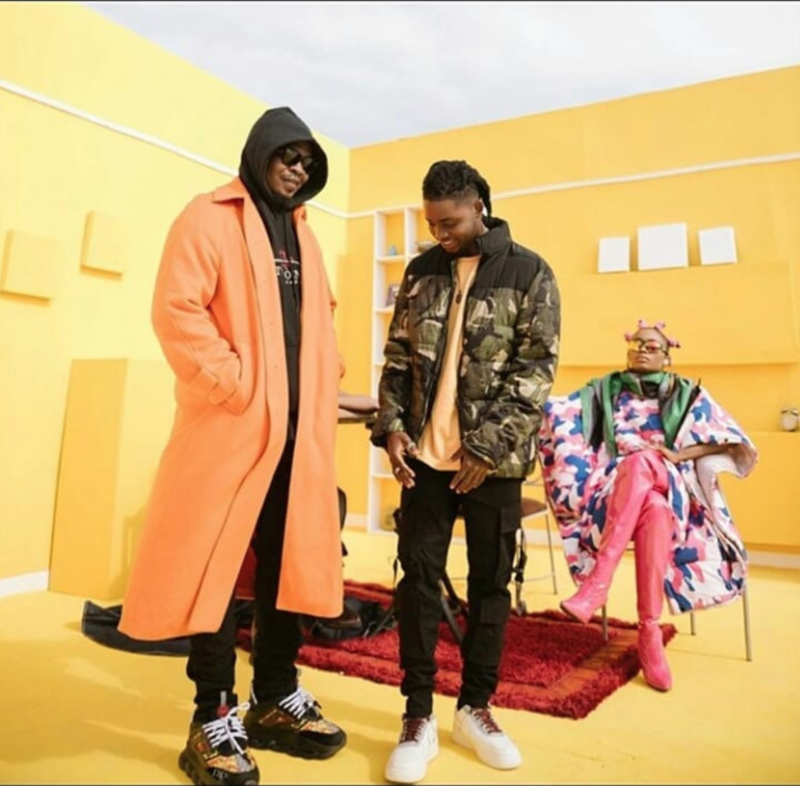 Olamide Infinity featuring Omah Lay…. Here is the Olamide x Omah Lay joint record that y'all have been waiting for titled "Infinity".
"Infinity" is the third track on Olamide 's 'Carpe Diem' Album featuring Omah Lay produced by P.Prime. The record is a mid tempo jam that captions Sex (loving making). Olamide and Omah Lay talks about the lady that wants to have their Cucumber till infinity because to her its something she can't just resist. Listen!
"Infinity Lyrics"
Omah Lay
She no like groundnut
But she go chop am
If you give her cucumber
Waka from trans Amadi
Till her leg begin shake
Awilo lokomba
Baby make i give you solid
Make i even mix am with ale and awopa
Eweremite
Teteli teteli teteli teteli te
(Tetere tetere)
She dey feel am dada
Dadaride da darida
She dey feel am dada
Dadaride da darida
She dey feel am dada
Dadarid? da darida
She dey feel am dada
Dadaride da
(oh y?ah)
She say till infinity
Till infinity, infinity, infinity oh yo yo
She say make i put it in
Make i put it in, put it in, put it in oh no no
She say till infinity o
(Till infinity, infinity, infinity oh yo yo)
She say make i put it in
(Make i put it in, put it in, put it in oh no no)
Olamide
Oya take kala-whooska
Cover me like babushka
Hold you like Toke Makinwa
And you bad you're a different animal
Sangalo me like JayJay
Make i beat am like I'm Sunny Nweke
Is what you do with the banana
Go determine if you go get house for Banana
Erima show for yourself do what you do
Use kayamanta
You fit use juju
Dey don play me your tape for artillery
You dey use hmm collect boys salary
Make i put firewood for the fire
Send you the wire
Na you I go hammer and i no go retire
Bedroom voice be like say you dey for the choir
Do re mi so la ti do
Do do do mi la la
Omah Lay
She dey feel am dada
Dadaride da darida
She dey feel am dada
Dadaride da darida
She dey feel am dada
Dadaride da darida
She dey feel am dada
Dadaride da
(oh yeah)
She say till infinity
(Till infinity, infinity, infinity oh yo yo)
She say make i put it in
(Make i put it in, put it in, put it in oh no no)
She say till infinity
(Till infinity, infinity, infinity oh yo yo)
She say make i put it in
(Make i put it in, put it in, put it in oh no no)
She say till infinity
(Till infinity, infinity, infinity oh yo yo)
She say make i put it in
(Make i put it in, put it in, put it in oh no no)
She say till infinity
(Till infinity, infinity, infinity oh yo yo)
She say make i put it in
(Make i put it in, put it in, put it in oh no no)
She say till infinity
(Till infinity, infinity, infinity oh yo yo)
She say make i put it in
(Make i put it in, put it in, put it in oh no no)
Olamide
Make i put firewood for the fire
P…
Send you the wire
No you I go hammer and i no go retire
Bedroom voice be like say you dey for the choir
Do re mi so la ti do
Do do do mi la la
(lala lala…)