Sync-Afrique is the biggest African cultural show in the city of Mississauga, Canada. It serves as a platform for showcasing and channeling talent, professionalism, skill and energy towards the preservation of African culture and the exposure of individuals to the richness of Africa. This year, the concept of the show is set to take the direction of a Broadway production fusing various forms of art (theater, music, dance, fashion and poetry) all of which contribute towards the educative goal of the show. The show aims to eradicate stereotypes through education in an atmosphere of diversity, multi-ethnicity and tolerance.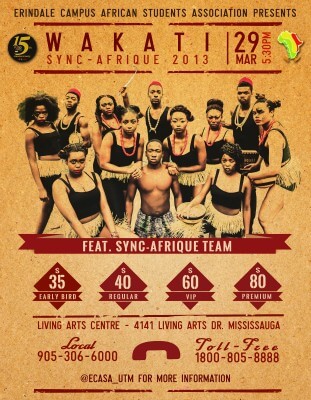 **Food Services:
Food will be served at the UTM students Centre which is right beside the after-party location at the UTM Campus.
3359 Mississauga Rd, Mississauga, ON L5L 1C6You definitely don't want to miss out on the After-Party which starts soon after the show wraps up.
[Location – UTM BLIND DUCK PUB] –
3359 Mississauga Rd, Mississauga, ON L5L 1C6
Limited FREE buses will be provided from Living Arts Centre to the after party location (UTM CAMPUS)
THE AFTER PARTY IS A 19+ EVENT AND UNDER 19 UTM STUDENTS SHOULD HAVE THEIR PUB ACCESS PASS.
Venue: Living Arts Center, Mississauga –
4141 Living Arts Dr Mississauga, ON L5B 4B8
**RED CARPET EVENT**
Dress to Impress
Doors Open at **5PM**
Show starts at 7pm (and doors close 15 minutes after start time)
***TICKET PRICES
Regular: $40
At the door: $50
VIP: $60
*Premium*: $80
For tickets contact
Seyi – +1-647-927-2024
Ebi – +1-647-271-2130