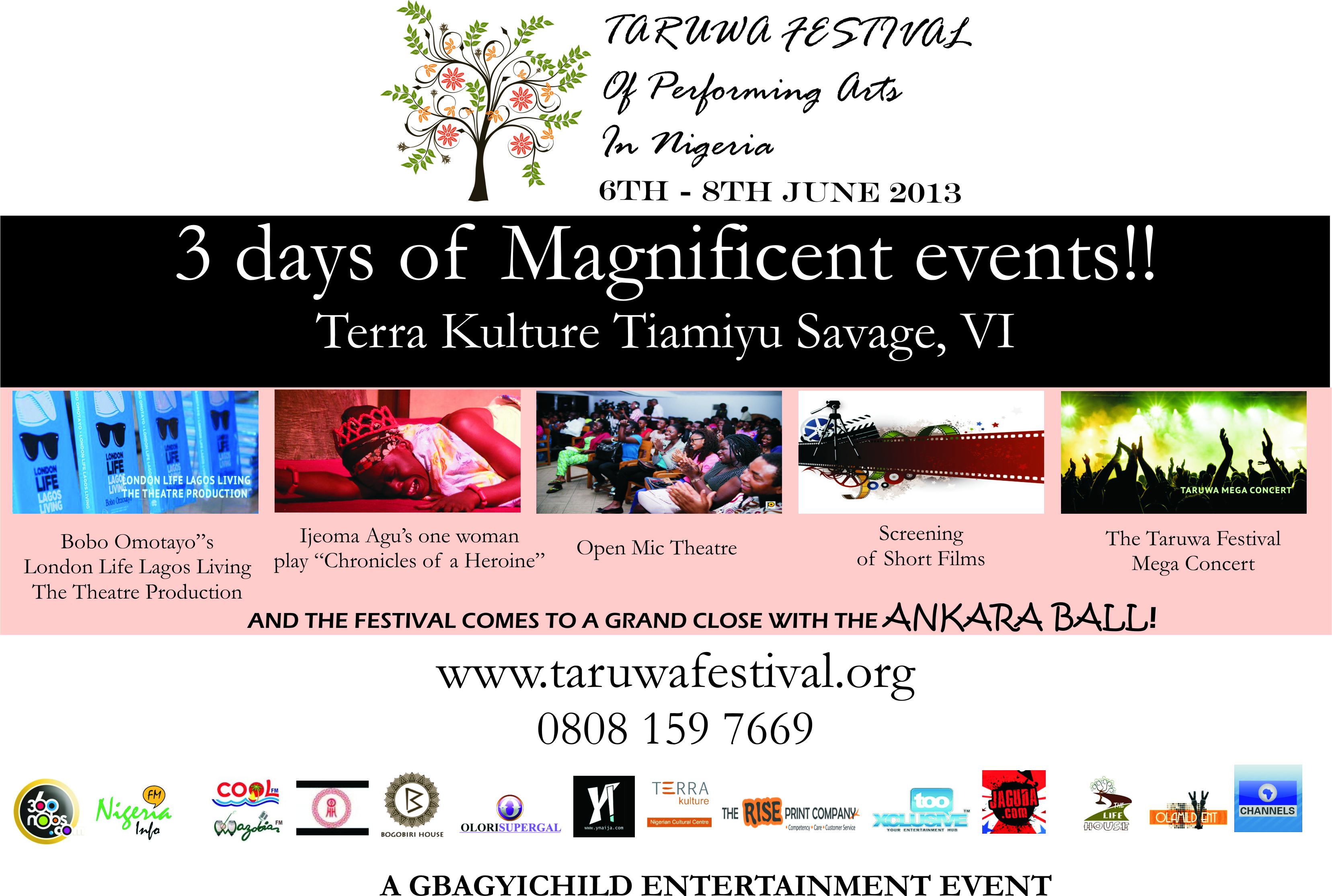 This June, in addition to its already accomplished monthly gatherings, Taruwa introduces a festival, Taruwa Festival of Performing Arts in Nigeria [TAF]. The festival which is designed to be a 3day cocktail of rich events, is an annual event kicking off this year on Thursday June 6 and ending on Saturday, June 8, 2013, to paint Lagos all shades of art through music, poetry, theatre, dance, fashion and screening of short films, all holding at the artsy venue of TerraKulture, Victoria Island, Lagos
Speaking about the inspiration behind the festival, Lydia Idakula Sobogun, CEO of Gbagyichild Entertainment, conveners of the monthly Taruwa event and Organisers of The Festival,  explains "Taruwa has always been about finding true art, true passion and giving it a stage to express, no matter who it is. That is what I want to show you… "
On what attendees should expect, member of the planning committee and Head of Communications to the festival, Bee Azubike, says "The festival is a carefully planned collection of events, and the team wants nothing more than to give everyone an unforgettable experience – which is something Taruwa, over the years has strived to achieve"
The festival makes a grand opening on Thursday, June 6 with the adaptation of Bobo Omotayo's bestselling book LONDON LIFE LAGOS LIVING live on stage with a stellar cast; this 2-hour show also opens with a musical performance and the one-woman play CHRONICLES OF A HEROINE by Ijeoma Grace Agu.
The second day of the festival, Friday, June 7 gets even more interesting, as it kicks off with a Children's show in the morning, after which a screening of short films and Open Mic Theatre will hold, seeing the day round off with a Mega Concert featuring carefully selected acts to thrill the audience with the finest performances in music, spoken word, dance and a dash of fashion.
On Saturday, June 8, 2013, the festival will come to a grand close with The ANKARA BALL, a glamorous Ankara-themed night of music, dinner and dance.
Though its first outing, the passionate team at TAF plans for the festival to be the largest and most consistent performing arts festival in Nigeria, attracting visitors from all over the world, and making it a festival of National importance, highly valued as a catalyst for cultural and community development.
EVENT DETAILS
Event: Taruwa Festival of Performing Arts in Nigeria [TAF]
Date:  Thursday, 6th June – Saturday, 8th June, 2013
Venue: TerraKulture, Tiamiyu Savage, Victoria Island, Lagos
Ticket Locations
– Early Bird tickets are on sale for one week, starting today Tuesday, May 21, 2013 and can be purchased on www.dealdey.com 
– Normal Priced tickets will go on sale nextweek, from May 27, 2013 on  www.konga.com, www.jumia.com.ng and at TerraKulture, Tiamiyu Savage, Victoria island, Lagos
Further information: 
Call: 234 808 159 7669
Email: [email protected]
Website: www.taruwafestival.org
For Press and Publicity:
Bee Azubike,
Head, Communications
Taruwa Festival of Performing Arts in Nigeria
[email protected]
234 803 365 0358
About Taruwa
"Taruwa isn't just any other social phenomenon. It is the representation of the power of a dream and what can become of it when it is followed through. I can't forget when Lydia mentioned it to me in my tiny apartment in Kano back in 2006… I have gone from being a supporter to becoming a fan and then a fanatic in the times when I worked in Lagos. Tuesdays haven't remained the same for years now. I am happy to have witnessed it in the various locations it has toured in Nigeria and so sure it's the kind of  renaissance we should advocate for in our generation for socio cultural afrocenttic self preservation and pride"
– Jonathan James Lyamgohn – Head of Station, Wazobiafm, Coolfm and Nigeria info, Abuja.
TARUWA (a Hausa word meaning 'gathering'), is an event created by Gbagyichild Entertainment. It is a gathering of artistic and intellectual minds, which creates a platform for artistes to express themselves in a comfortable and intellectual setting. On a typical TARUWA evening, we have poets, vocalists, instrumentalists, and spoken word artistes, performing. It is always a rich artistic cocktail.
About Taruwa festival of Performing Arts
TARUWA FESTIVAL OF PERFORMING ARTS IN NIGERIA (TAF) is designed to be an annual performing arts event which will hold in Lagos, Nigeria. It will hold for a weekend in June and will present ground breaking work in Performing Arts (Theater, Music, Comedy, Spoken Word, Dance and Fashion) focusing on Nigeria and Africa but including the global artist. The festival will expand the horizons of Nigerian artists and audiences with work that is visionary, genre-bending, multi-disciplined, startling and original.
The Festival will showcase international, African and local (Nigerian) artists and mix them together with an alchemy that will inspire audiences, invigorate artists, stimulate the industry and forge productive relationships around the globe.