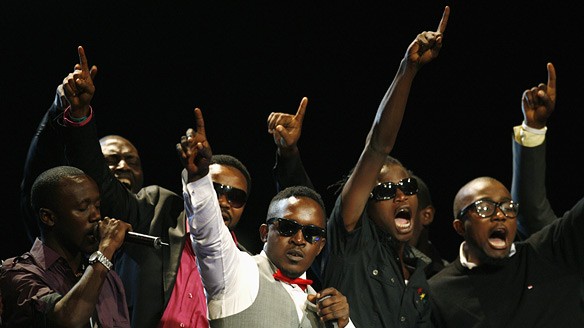 I remember when I discovered music as a child, thanks to my parents who constantly played the likes of Fela, Ebenezer Obey, Lagbaja. Koko-below is one song that could never be overlooked, the lyrics and beat got to me every time. I feel the lyrics have a story to tell, bringing the audience closer so they can connect from an emotional standpoint. Emotions are what drive great songs; they give you that feeling to hear more.  A day without music to me is a day wasted, but there is something about the song that grabs me like a hook on guitar or a catchy melodic bass line or a groove that sets it up.
Sometime between the late 90s and now, the content of songs in the Nigerian industry has changed. You rarely concentrate on the lyrics and we promote this because they're hits that we can vibe to, beats became more important that lyrics. Rappers are forced to change their style just to suit the popular demands, Lyrics matter. I shouldn't even have to say this but I've had this chip on my shoulder for a while. It gets heavier every time I get a promo without lyrics which is 99% of the time now. It gets heavier every time I hear someone say, "Lyrics don't matter to blow". This chip has become very heavy and it's time to cast it off, at least for today.
Nowadays, I often hear these counter-arguments: "the vocals are just another instrument or texture" or "the music is really what's important". Well, vocals are always another instrument and texture. Lyrics, when presented in a rhythmic and sometimes melodic manner, are part of the music. It's not enough just to sound good.
Meaningless lyrics often get a free pass because of the underlying music. Ideally, both parts are good. Hip-hop faces this problem often. The radio is riddled with "great beats, awful MC" (hello, Kelly Handsome). And, to be honest, I can put up with that more than "awful beats, great MC" (hello, D'banj). But the pleasures of "great beats, awful MC" are temporary. What lasts longest and means the most is "great beats, great MC". This applies to all music with vocals. The best things in life are great total packages and the best things in life should be the only things we seek.
I've been privileged to meet some of the pioneer artists, songwriters and producers in the Nigerian industry and I noticed these guys don't really put as much effort into lyrics as they used to in the past, a good beat, couple of rhyming hooks an you're good to go with that "hit". Most artists in the Nigerian industry don't realise how important lyrics are. People draw emotion, strength and most of all, happiness from music. Lyrics can mean one thing to one person, and something completely different to another. Just like no two people are the same, neither is they're taste in music. Lyrics make people feel like they belong, and that others feel the same as they do. For others music is simply an escape form they're world. For me, it's both a feeling of belonging and an escape. There is nothing I love more than escaping into the rhythm and lyrics of a great song.
Just as you shouldn't watch a foreign film without subtitles, you shouldn't listen to music with words without knowing what they are. One should not pass judgment on something without perceiving it in its entirety but since everyone's a critic now, and reading music critics is a great way not to enjoy music, this priority is just as important for listeners.
So we should not volunteer to be ignorant in music, which, if you're reading this, is probably important to you. Music feeds the soul, it saves lives, it is a source of power and it should be the last place where people don't have the full picture. Listening to music without knowing the lyrics is like eating food without knowing its ingredients. It's irresponsible; if music is important to you, take the time to embrace it fully. Know what that guy screaming at you is saying.
What grabs you first the music or lyrics? Why?