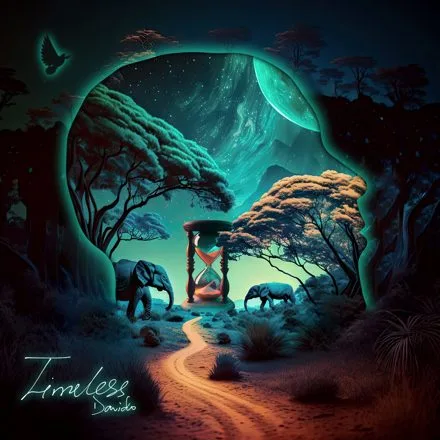 Timeless – the fourth studio album by David Adedeji Adeleke, Davido – is set to drop on March 31, 2023. The project contains seventeen outstanding tracks, some tracks feature vocal assistance from top-tier music superstars like Musa Keys, Skepta, Fave, Focalistic, etc. The "Timeless" album release is a highly awaited occasion for one of African music's biggest ambassadors of the digital era. It will be the star's first release after a five-month-long public sabbatical and his first album since 2020's A Better Time. We expect this to be a beautiful trinity of albums from the superstar; A Good Time – A Better Time – Timeless.
Notably, as part of Spotify's commitment to providing global audiences a place to engage with African content, they are happy to support Davido as he reaches yet another significant milestone. Spotify published a special trailer to promote Davido's upcoming album, Timeless. The Afrobeats star's fourth studio album, which was scheduled to be released on March 31, is being eagerly anticipated by fans. The clip, which depicts the African sensation on the set of a TV interview, was recently released.
Davido recently made headlines when he announced his comeback and that a new album would be released this week, specifically on Friday. His fans, music enthusiasts, and the industry as a whole responded with excitement upon hearing the news as they eagerly anticipate what the album will entail. The entertaining singer who is renowned for his hit songs and chart-topping albums is expected to drop another masterpiece as he releases "Timeless".
Timeless Tracklist and What To Expect
Timeless is expected to have a total of 17 songs, as the new album was supposed to include the already-released "Champion Sound" by Focalistic, an Amapiano ambassador. "Over Dem", "Feel", "In The Garden featuring Morravey", "Godfather", "Unavailable featuring Musa Keys", "BOP starring Dexta Daps", "E Pain Me", "Away", "Precision", and "Kante" featuring Fave were among the songs he named as being on the entire Timeless tracklist. Other tracks include "Na Money", which features The Cavemen and Angelique Kidjo, "U (Juju) featuring Skepta, Asake on "No Competition", "Picasso featuring Logos Olori", For The Road, LCND, and "Champion Sound featuring Focalistic".
The Hit Solo Tracks; Over Dem, Feel, and others
The opening tracks of the album seem like the type of tracks to brighten up the mood from start, knowing how special Davido gets with his hit singles. Taking a cue from his last two albums, these two tracks, "Over Dem" and "Feel", may just be the club bangers we weren't expecting. Davido also went on to litter so many solo tracks around the exciting collaborations on the Timeless album. Going solo on about 8 tracks on this beautiful project, other tracks the Afrobeats hitmaker went solo on include; Godfather, Pain Me, Away, Precision, For The Lord, and LCND. We expect a couple of smash hits from this list as Davido has a reputation for delivering so many hits on his own.
The Features on The Timeless Album
Davido is renowned for his outstanding collaborations with both local and international musicians. Fans have been anticipating this new album to include some intriguing features that will further highlight his artistic range. Davido did not disappoint listeners when he announced the tracklist as he enlisted some elite collaborations.
Unavailable ft. Musa Keys – This may as well be another Amapiano banger like Champion Sound, as Musa Keys got an interesting flair for this genre of music. Davido got a knack for Amapiano while Musa Keys has a flair for the music style, we likely know what to expect when these two meet in the studio to cook up the best tune for the listener's pleasure.
Na Money ft. The Cavemen & Angelique Kidjo – Davido has his major bangers rocking locals in Nigeria, and this track may be that tune that fits the streets again. A track like Na Money that features The Cavemen or Angelique Kidjo is most likely expected to have a solid African native style to it. The Cavemen is quite popular for their Highlife delivery in the music industry while Angelique Kidjo is majorly known for her award-winning indigenous African tunes that are globally accepted. Davido who loves to experiment with Afrobeats seems to be the perfect man at the heart of the tune.
 U (Juju) ft. Skepta – Skepta has enjoyed a good run of features with the best of Afrobeats performers – Rema, Wizkid – so far so good. Music lovers may be wondering what Skepta and Davido have for us – oh well, we may not need to ponder so much cause this one may go down as a classic. The UK and Nigeria have enjoyed a lot of collaborations between Afrobeats and UK rap. Plus, with the two heavyweights from both nations coming together to record this top track, U (Juju), we expect nothing much but the best released on March 31st.
No Competition ft. Asake – Asake has been that special kid since the start of 2022, he's been excellent on his records released, both singles and featured tracks and the superstar seems to be going harder than ever. Davido recognizes the potential and prowess of Asake's music as he enlisted the Nigerian artist as part of his comeback project, Timeless. Are we to expect a street gospel like in Yoga or Stand Strong? Or something that's a club banger like Omo Ope? While both artists enjoy experimenting with Afrobeats, "No Competition" is one tune we want to listen to for sure.
Kante ft. Fave – "Kante" is worth noting as Fave gets an elite mention and contribution to the Timeless project. The amazing Nigerian singer has had the accolades of working with some of the best entertainers in the country, folks like Olamide had her vocal support in a couple of tracks on his project too. Therefore, the rising star's mention on Timeless is one that we expect to blow up and top popular charts locally and globally too.
Other tracks with featured contributions include "In The Garden ft. Morravey", "Bop ft. Dexta Daps", "Picasso ft. Logos Olori, and already popular smash hit, "Champion Sound ft. Focalistic".
Fans knew they were in for an incredible musical experience if the calibre of the artists and Davido's preference for classic collaborations were any clues. International artists, both famous and upcoming, were featured on the Timeless album. In keeping with Davido's decade-long reputation as a connection and important collaborator in Afrobeats and international music, it features a roll-call of established international and rising local artists as well.