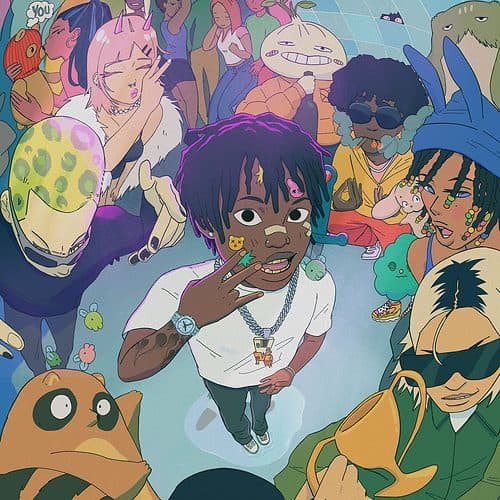 The successes that the Nigerian music scene has been consistently delivering over the past few years have had an impact on the global music business. The country's prolific musical output trend has been maintained in 2022–2023, with notable recordings and releases by mainstream artists in Nigeria.
With the help of our weekly playlist, we hope to make your week more exciting. You already know that we only provide you with the best music available, and some of your favourites were undoubtedly included. Continue reading as we present 13 terrific Nigerian songs for your enjoyment.
Famous for his brilliance with wordplay, Odumodublvck provides his ardent admirers and followers with this groovy soundtrack titled "Declan Rice". The talented rapper delivered beautifully on this track as this wonderful song was released for public access this year 2023. The Nigerian rapper, Odumodublvck, goes solo this time as he previously joined other A-list performers in submitting to the mainstream as he moves away from his incredible song, "Picanto", which features vocal support from ECko Miles and Zlatan, the head of Zanku Records.
Odumodublvck is steadily leaving behind a fantastic legacy as he goes Number 1 on charts in the country – it's quite rare to see a Hip-Hop artist do that in Nigerian charts. In songs like "Declan Rice", the rapper showcases his writing and singing talents to the music industry. Without further ado, you can feel free to stream or download the mp3 of this viral tune and add it to your playlist today. Don't miss out on this wonderful rap music that has the country in a chokehold this season.
Rema is a highly-sought after musician who always likes his listeners to feel good and enjoy his music. It was no doubt that another banger had come through when he released another amazing song, "Reason You", with a catchy vibe that anyone would want to listen to repeatedly.
Reason You is a good product of Afro-Pop and Afrobeat-infused record that catapults the Nigerian Superstar back into the spotlight as he enjoys the attention of his global smash hit – Calm Down. Rema definitely delivered on this tune, which was mixed, mastered, and produced by the talented Alex Lustig.
The three-minute single – released along with "Holiday" – by the Jonzing & Mavin recording artist, Rema, will ignite your mood with its soothing and melodic vibes. You know how Rema enjoys doing what he does best. Your playlist is really deserving of this amazing song.
Soweto Remix – Victony x Rema x Don Toliver x Tempoe
Nigerian fast-rising star, Victony, released the remix of his super-hit song, Soweto, not long ago. The talented artist had to provide listeners with the most enjoyable and thrilling experience possible when they are listening to this wonderful music, so in this bid, Victony introduces the most recent creative output including vocal help from American singer Don Toliver as well as one of the top new-generation artists, Rema.
Notably, Victony received a sophisticated verse from Don Toliver for the revamped song, while Rema added fascinating English and French lyrics. This one is so sleek and lit, and good remix to the already smash hit song, download the mp3 of Soweto Remix and add it to your playlist this week.
People Remix – Libianca x Ayra Starr
The immensely talented Cameroonian female musician, Libianca, delivered another masterpiece in the music industry with a remix of her amazing smash hit song, "People". On the remix, she collaborated with Omah Lay and Ayra Starr, two outstanding Nigerian musicians.
This is a stunning and soulful song that Libianca wholeheartedly performs well. Nonetheless, the invited features deserve some praise for working together to give this record more vibrancy and finesse. Omah Lay is renowned for having a knack for introverted, soulful sounds that is expressive. Arya Starr also took the challenge on and has been known to dabble with several musical genres, but this one is particularly appropriate for her. Regardless of the theme, People Remix is a feel-good song that has gone viral already, add the mp3 and enjoy this blissful music on your playlist.
Who Is Your Guy Remix – Spyro x Tiwa Savage
A stunning remix of Spyro's hit song "Who Is Your Guy" grabs the attention of his followers and music lovers. Spyro has been noted as a tremendously talented Nigerian singer, songwriter, and composer with his previous records.
In Who Is Your Guy Remix, he took advantage of the vocal prowess of Award-winning Nigerian singer-songwriter Tiwa Savage to produce a banging record that is filling the streets of Lagos and Nigeria at large. This is one amazing hit song that you really have to listen to, add it to your playlist today.
The song has a pleasant melody and lyrics with deep meanings that speak of strong friendships that endure adversity. This song is a wonderful banger, and the lovely Tiwa Savage went wild on the remix, honoring Spyro with her beautiful voice and verse on his song.
Stamina – Tiwa Savage x Ayra Starr
The city has been going crazy for the new song, "Stamina", by Tiwa Savage, Ayra Starr, and Young Jonn. An elegant fusion of Afropop, Afrobeats, and EDM can be heard on "Stamina". Tiwa Savage's distinctly Nigerian style is matched by Ayra Starr's silky and soulful vocals and Young Jonn's hard-hitting finesse. The group has written a song that will undoubtedly get folks rocking.
In this song, Tiwa Savage truly stunned everyone, but the partnership with Young Jonn, a brilliant producer, and performer, made it a match made in heaven. Ayra Starr was also completely at ease being a star. This music is exquisite and distinctive. Stamina should be downloaded and added to your playlist right away so you don't miss out.
Party No Dey Stop – Adekunle Gold x Zinoleesky
This is a very remarkable tune as Zinoleesky was invited by the international rising artist – Adekunle Gold – to appear on this brand-new banger song, and as usual, Zinoleesky delivered this lovely track. In addition to being listed as the record's producer, Kel-P is credited with expertly fusing Afropop elements into his production as Adekunle Gold and Zinoleesky stun on "Party No Dey Stop".
After having a successful 2022 with his fourth studio album (CMIYC), Adekunle Gold makes a comeback in 2023 with "Party No Dey Stop". To get the most quality out of this club banger, Adekunle Gold collaborated with the Marlian trooper Zinoleesky. You should download the mp3 and include it in your playlist this week since it's too lit. Listen and enjoy.
Carry Me Go – Khaid & Boy Spyce
This brand-new masterpiece is the ideal fusion of Afro-pop music. Khaid, who is a recording artist signed under Sydney Talker's record label – The Neville Records, is a fast-rising star who is quite famous for his enthusiastic performance whose music has always mesmerized the new generation. The singer acquired a lot of fans and supporters in the music industry because of his debut song, "With You", off his album "Diversity".
Mavins Records' rising star, Boy Spyce, is featured in the superbly composed song, "Carry Me Away". This is Khaid's second single for 2023, the tune provides listeners with the most enjoyable and thrilling experience possible while they enjoy this fantastic track. You should go ahead and stream, download, and share Khaid and Boy Spyce's awesomely composed collaboration on this song, "Carry Me Go". the music fan communities are really enjoying this tune, don't let your playlist miss out on it.
The One – Crayon
Mavins Record artist, Crayon, releases "The One (Chop Life)", yet another intriguing song. The talented star drew on the musical skill of the incredibly brilliant South African band Yaba Buluku Boys who performed exceptionally well on the song which was recently released in 2023.
Due to his highly regarded vocals, which are adored by both his fans and the music industry, Crayon has recently been dominating the Nigerian music scene and receiving a lot of attention. Also, the fast-rising star must have spent a lot of time crafting and perfecting "The One (Chop Life)" – an excellent and electrifying song he co-wrote with Yaba Buluku Boys. This project is sure to rank among the best to have been released this week. You should add this good music to your playlist today.
Last Time – Zinoleesky x Omah Lay
The Nigerian hit-maker, Zinoleesky, introduces the expertise of the exceptional Nigerian Afrobeat vocalist and songsmith, Omah Lay, who joined the session with a positive attitude on "Last Time". This track is so interesting and delightful to the ears, and Omah Lay accurately provided vocal backing for Zinoleesky's well-crafted euphony, Last Time.
Notably, you'll find that "Last Time" is the sixth track of Zinoleesky's beautiful body of work, Grit And Desire, which was published in the year 2022. When we have two excellent artists working together in the studio, we shouldn't expect anything less. This Niphkeys-produced euphony was properly performed by Zinoleesky and Omah Lay. Download Last Time and let your playlist entertain you.
Good Bad Boy – Lil Kesh
"Good Bad Boy" is a mid-tempo soundtrack that Lil Kesh releases in an effort to make his music listeners happy. After a protracted absence from the music industry, Lil Kesh is making his comeback with this song in the year 2023.
The Nigerian superstar, Lil Kesh, has carved out a place for himself in the country's music scene. The singer created a hook that is so infectious that anyone can get behind it, with production help from IBKisSleek and mixing and mastering help from Vtek. "Good Bad Boy" is a song that shows the epitome of Afro-pop music, check out this tune and add to your playlist this week.
Soso – Omah Lay
Omah Lay's musical talent on "Soso", keeps coming up as the hit song tops charts and smashes speakers across communities in the nation. Omah Lay might go down as one of those amazing artists with no bad songs and his work on "Soso" is still being praised. "Boy Alone", his most recent album, features this outstanding song.
With the release of the bright and vibrating "Soso", Omah Lay has become one of the top Afrobeats artists in the country. You should have a good listen to Omah Lay's song Soso, which was created by Tempoe, introduce this music to your playlist.
Nzaza – Asake
Nzaza, one of Asake's 2022 hit songs, is a masterwork soundtrack that he produces for the enjoyment of his music fans. The "Mr. Money With The Vibe" album was well worth the wait.
The project's eight-track, titled Nzaza, debuted as well as with his album. Asake, who always brings great vibes, did it again with this stunning song that we have here. The production team behind this song and the entire album is called Magic Sticks.
The fast-rising superstar combined fuji and Yoruba gospel influence with upbeat beats to reflect on his expanding path and express gratitude to the divine on this track. This tune, Nzaza, is one beautiful tune that will gladden your playlist today.