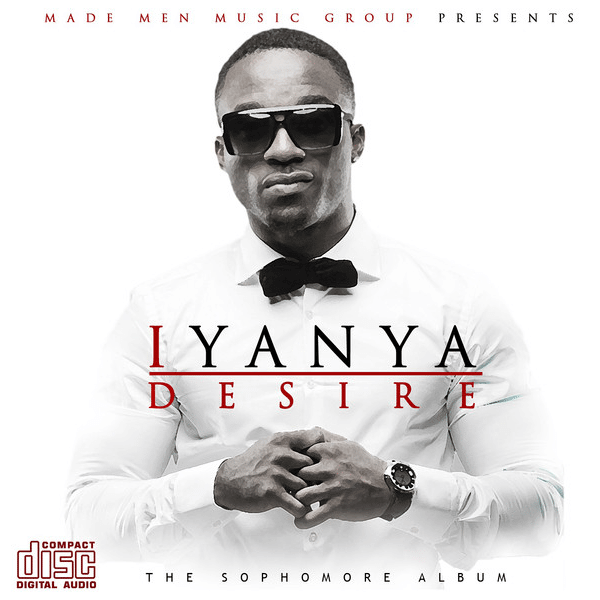 Artiste – Iyanya
Album: Desire
Features – Tekno, Flavour, May D, Emma Nyra, Yung L, Tiwa Savage, Wizkid, Vector & D'banj
Producers –Tee Y Mix, D'tunes, Mr. Chido & GospelOndaBeat
Label – Made Men Music Group (2013)
CAUTION: You might hear the word/name 'Ronaldo' in every song on this album, do not be offended. Apparently Iyanya Mbuk is a desperate fan of the soccer star.
We will not waste time debating about the angle Iyanya and his team had in mind when creating his sophomore album. We'll go ahead and hit the nail on the head by labelling 'Desire' a near-monstrous disappointment simply because the Project Fame winner refused to push his art, making the LP feeble, unfulfilling and far from adventurous. Notwithstanding 'Desire' might be the most commercial album of the year, if caution is not exercised.  The LP not only houses the hits that catapulted Iyanya to the top of the music food chain, it also features celebrated producers and guest appearances from international pop act D'banj, Mavin beauty Tiwa Savage, high-life prince Flavour to star-boy Wizkid. Is it all hype? Digest this track to track review:
Badman (feat. M.I): Interestingly, Iyanya's debut album 'My Story' opened with M.I on the R&B/Hip Hop track titled 'Gbadun You'. Yet again, he employs Mister Incredible to kick off the ceremony on his sophomore album with the daring ragga tale about surviving hate tagged 'Badman'. Iyanya proves he is indeed the leading man as he rides the Mr. Chido beat like a hot knife slicing through ice. The track which is complimented by M.I's bars will surely leave tongues wagging.
Ekaette (feat. Tekno): Ekaette loves to dance, and so do we. The chorus of the song sealed the destiny of becoming a moderate club hit at least despite the very blonde lyrics and production similar to Kcee's 'Okpete'.
Gasegbe: Iyanya refuses to leave the corner of the box he is thinking in and it results in another production driven number. 'Gasegbe' might be catchy when you are under the influence but on a regular day, it is simply unmemorable.
Marry Me: The lyrics of this mid-tempo romantic ballad are a bit controversial as the vocalist sings; 'Do you remember the way dem they criticize our matter for Twitter? For you love my dear, girl I surrender…' Tonto Dikeh or Yvonne Nelson? Well the much-desired singer belts to his lover to marry him regardless of observers' opinions. Lovely tune.
Flavour: Retouched for the album is the third lead single off the album 'Flavour'. D'tunes magic fingers are to be blamed for the strength of this number. It's a fusion of highlife and francophone music showcasing ear-teasing strings, trumpets, drums and piano. Iyanya shines on this cut.
Limbo: In less than 3 minutes, Iyanya delivers yet another empty but promising up-tempo dance number. Yet, Young D's stellar production saves the day and makes up for Iyanya's flaws.
Whine (feat. May D): Iyanya and May D fall hands with 'Whine'. Their collision gives birth to a lyrical joke and the beat marks the start of the monotonous track.
Jombolo (feat. Flavour): Kudos to Flavour, the high-life royal brought it on this cut. That said, either it is outright laziness or Iyanya just wanted to sample almost the same chorus used by Ay dot com and Timaya for the fast rising hit 'Jogodo'. Whatever the case, we cannot get past it…
Some More (feat. Yung L): Grip Boy 'Yung L' makes a memorable appearance on 'Some More'. Creamy vocals, nice delivery…
Ur Waist (feat. Emma Nyra): 'It's D'tunes again oh' and Iyanya wants 'Ur Waist'. Challenging and sonically daring, Iyanya pushed boundaries with this track and it paid off big time.
I Gat It: The only low-tempo or slow song in the bunch, is a love ballad' titled 'I Gat It. Iyanya reminds us that he can sing.
Somebody (feat. Tiwa Savage): Reminiscent of 'Flavour' is the Tiwa Savage assisted 'Somebody'. The over usage of auto-tune or vocoder on Savage's vocals comes off a bit unpleasant to the ears. However the duo 'jonze' around and Iyanya disses singers as he interrupts Tiwa Savage's vocal runs and tells her to stop over-singing saying: '…Hold it! That one no they pay oh!'
Little Things: Shockingly he shines like a little diamond as he sings on 'Little Things'. D'tunes showcases his versatility as a producer as he abandons his xylophone which has being over-used already on the album.
Sexy Mama (feat. Wizkid): Wizkid steals the entire show on the heavy 'Sexy Mama'. He even sang roughly 80% of the song, thereby putting Iyanya in the shoes of the featured artiste. D'tunes again brought his A-game though the track still sounds very rushed, forced and makes Iyanya look out of place.
Kukere: 'Kukere' redefined 'Iyanya' as an artiste. It became the un-official anthem for the dance 'Etighi 'and was arguably the biggest song of 2012. Iyanya and D'tunes experimented and broke sound barriers resulting in a classic. Yes! Kukere is timeless.
Your Man (feat. Vector): It seems the closing minutes of the albums have some gems: starting with 'Your Man', which features an exceptional rap verse from Vector. Iyanya returns to his 'My Story' form on the 16th track. It's a feel good R&B number that is made that much more soothing with the background vocals.
Drowning: Tee Y Mix crafted what might be the best song on 'Desire'. Despite the title, Iyanya soars far above the ocean level on 'Drowning'. He makes camp on the dance-pop beat, flaunting his rich, silky, and falsetto singing voice. He belts deep lyrics about the heartache because by the absence of his love.
Kukere (Remix) feat. D'banj: The end of Iyanya's 'Desire' is the mega remix to the lead single featuring G.O.O.D music recording artiste D'banj. The remixed track aims to please the high men of the society.
Bust My Brain: The bonus track is a brilliant ragga song sampling classic ragga/dancehall numbers.
'Desire' is a jam-packed with very shallow and monotonous club and radio friendly cuts which will hold grounds individually but as a body of work, it falls flat on its face.
Random Fact: Iyanya means 'Desire' in English language.
Reviewed by Ogaga Sakpaide [ @Ogagus ]


"ALBUM REVIEW: IYANYA – DESIRE", 5 out of 5 based on 1 ratings.
---