The most recent album in stores is by Capital F.E.M.I and we can all agree that it is G.O.O.D music and I don't compromise when it comes to music in that light I chased down Femi. It was quite a chase from Mode Men magazine cover shoot to Industry Nite to the shoot for his upcoming video by DJ Tee and finally the humble R&B crooner took out time from his 'Money Money' making schedule to talk to me about his music, his career  and himself, digest the text below:
Ogagus: I know very little about you, tell me … who is Adeyinka Femi?
Capital F.E.M.I: My full names are Oluwafemi Oladipupo Adeyinka, I was born in Nigeria, from Ogun State, Abeokuta South… I'm a musician; you know what… what else would you want to know?
Ogagus: You were born in Lagos?
Capital F.E.M.I: Yes…
Ogagus: …but you travelled to the States…
Capital F.E.M.I: Yeah, I travelled to the States at a very young age; I was opportuned to have a pilot as a dad, so I had the privilege of flying back and forth the States and he finally decided to have me permanently in the States at a young age, like let's say 12.
Ogagus: So made you come back to Nigeria? Was life tough in the U.S?
Capital F.E.M.I: One of the reasons that made me come back to the country was not specifically because of the music industry neither was life tough there cause I haven't being in Nigeria for a long time, it was an opportunity to come back for family and at the same time I also came with the open mind to see what the music industry had to offer.
Ogagus: You are fresh in Nigeria and you signed with Kennis; what made you make that decision? No other labels on the table? Or it was Kennis or nothing for you?
Capital F.E.M.I: Actually when I came to Nigeria, I came with an open mind and my big brother was the one that introduced me to Kennis Music, we did talk about other labels but the direction was Kennis Music… that's how ink came to paper.
Ogagus: Kennis Music has undoubtedly produced industry heavy-weights over time; you must be pretty confident you can follow in that path and carve a name for yourself?
Capital F.E.M.I: I'm very confident in what I do and I'm very confident that this is just the beginning of something great in my life and music career, of course it's nice to be in a label that  carved such people like 2Face and so on ….but for me I see a bigger picture too.
Ogagus: What inspires your music?
Capital F.E.M.I: First and foremost God, errrrm one of the things that also inspire my music is the places I've been in my life…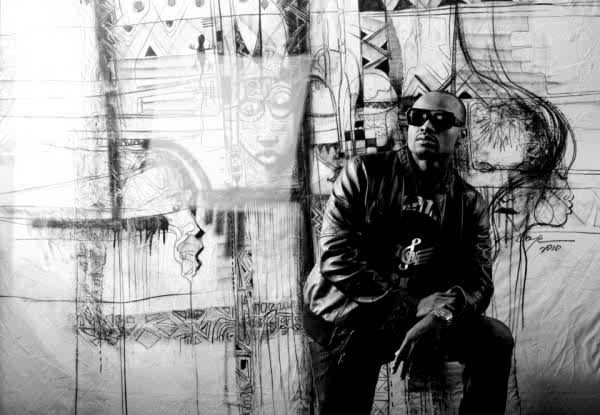 Ogagus: What message does your music carry?
Capital F.E.M.I: The message my music is a lot, it's basically feel good music… Theirs is a lot of love in there; I'm a sucker for love and I tell people you have to practice what you preach.
Ogagus: You have been dubbed the "King of Nigeria's R&B" by many, how do you react to this title?
Capital F.E.M.I: That's for them to say, that's for everyone to say and for me to focus on what I do, I like doing what I do…. I'm grateful but that's for them and you guys to say.
Ogagus: It seems the passion for music is strong but did you at some point did you try out another type of occupation asides music while you weren't yet in the spot light? 
Capital F.E.M.I: One thing is about me is that I'm a very hardworking person, I believe there's nothing I can't do if I put my mind to it. For me music has always been what it is to me but for now it's all and just music; I will try other things as time goes by.
Ogagus: With your arrival back in 2009 and only a handful of singles to your name. At what point did you feel it all coming together and see things begin to happen for you?
Capital F.E.M.I: Errrm, personally I still feel its still coming together and its not there yet. This is just a stepping stone to it, there's still a lot of work to be done. I'm grateful to have a lot of great and creative people around me to make sure I'm grounded. Is it coming together, yeah I'm grateful to God for the way things have come along. But is it coming together the way God has envisioned it for me and the way I've envisioned for myself? No, we are not there yet.
Ogagus: You swam through a pool of sharks to ultimately win the award for for best male vocal performance at the 2011 Headies awards. That must have been a moment to savor, how did you manage that feet?
Capital F.E.M.I: It was an amazing thing…
Ogagus: Did you expect the plaque?
Capital FE.M.I: No… Truthfully I was happy, I was very happy that I got nominated, being nominated is huge. It shows you are doing things right and on your way… So when my name was called, I remember sitting next to Terry Tha Rapman and he had to tap me and I jumped on the chair, it was an amazing feeling that no one can take from me.
Ogagus: Why did you title your debut album "The Year of R'n'B"?
Capital F.E.M.I: The title came up from what it is, my music is R&B music and I believe its time that R&B music to be really embraced in Nigeria, just like hip hop music or rap music wasn't embraced like 15 years ago or something but the likes of Remedies, Eedris Abdulkareem and so on and so forth started the hip hop movement. So for me I just feel its time for the people to really embrace R&B, if you listen to the album, it is R&B.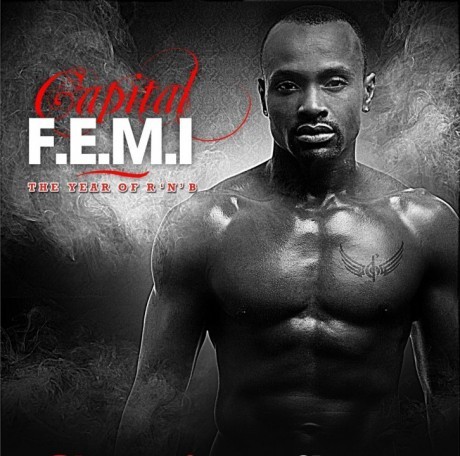 Ogagus: Who would you like to collaborate with locally?
Capital F.E.M.I: There's a list of people I haven't worked with and would like to work with but all in time, the likes of 2Face and Sound Sultan. I think Sound Sultan is a great musician, he connects when it comes to music that has meaning. I'm very opening minded with it comes to collaborating with other artistes in the industry.
Ogagus: Which artistes did you work with on your album?
Capital F.E.M.I: On my album, I really did not work with a lot of people on it cause I wanted the album to be move of me. I worked with Jaywon, Saucekid, Pokaface of Jukebox and Joe-El.
[audio:http://tooxclusive.com/wp-content/uploads/2012/08/04-Am-Just-Saying-feat.-Jaywon-Sinzu-_-tooxclusive-.com_.mp3]
DOWNLOAD Am Just Saying ft Jaywon & Sauce Kid
Ogagus: But you worked with notable producers like Masterkraft, J Sleek and even the Grammy Award winning Hakeem Abdulsamad… How was the experience working with these talents?
Capital F.E.M.I: It was amazing, the first producer I worked with here was Masterkraft and he is an amazing human being and so talented. 85% of the album is produced by Maskterkraft, people are surprised when I tell them it wasn't produced in Yankee or something. Tee Y mix, J Sleek, Sarz is a crazy beatmaker and working with Hakeem was a teacher, I learned a lot for him.
[audio:http://tooxclusive.com/wp-content/uploads/2012/06/Dont-Let-Go-_-tooxclusive.com_.mp3]
DOWNLOAD Don't Let Go
Ogagus: How do you react to female fans?
Capital F.E.M.I: For me its not about females fans, its fans generally. I handle them to the best of my ability, I give them the respect they give me… It works hand in hand, if you are a musician you must have fans, if you don't? Then you're doing something wrong… Its just handling it well and understanding the boundaries but giving them respect and a lot back but not crossing the boundaries.
Ogagus: If given the power to, what would you change in the industry?
Capital F.E.M.I: If I had the power, it would be to protect the artiste's intellectual property, then structure… Its a billion dollar empire and I'm not saying in naira, this music industry in Nigeria can be a billion dollar empire. People can actually make a living being in the industry if the right structures where in place.
Ogagus: Advice for R&B singers that are still trying to find their feet,?
Capital F.E.M.I: Just stay true to it, the way I look at it; if everyone stays true to R&B and doing it right it would overflow. The reason why a certain music is dominating Nigeria is because a lot of people are doing it, if the right people are doing R&B it would definitely move.
Follow @Ogagus_ and @CapitalFEMI1