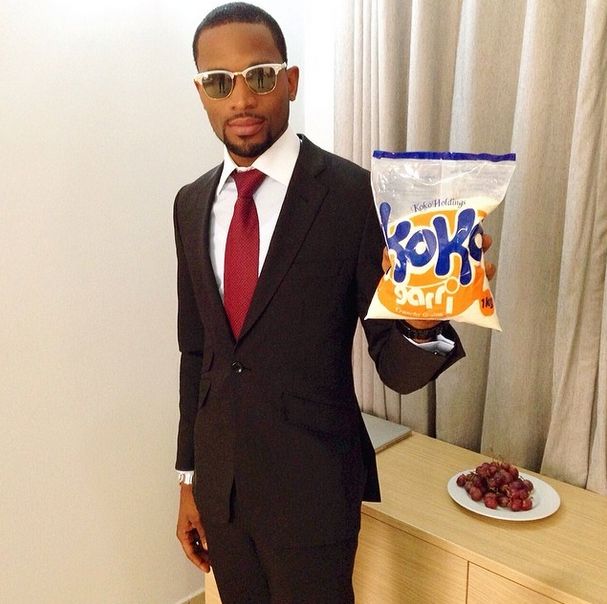 D'banj may still be raking in millions of naira, but the quality of his music is giving fans and pundits cause for concern. 
Let's start with a simple question: When was the last time D'banj released a hit?
Exactly.
In the past two years of 'silence', the kokomaster has in fact released song after song. The problem? All have been uniformly dreadful.
A music manager who has worked with D'banj in the past, and asks to remain unnamed, puts it succinctly: "You know that there is a big problem when a musician begins to be known more for 'kpo-kpo garri' and his relationship with Genevieve or some desperate housewife in Atlanta, than for his music."
In February 2011, the remix of music superstar D'banj's hit, Mr. Endowed burst onto the collective consciousness of Nigerians. In the accompanying video was his longtime collaborator, partner and friend, Don Jazzy, gently nodding and swaying, true to his style. Also present was ageless rap veteran and lackadaisical charmer, Snoop Dogg – who was christened OluwaSnoop – and who professed love for "my nephew D'banj from Nigeria". Eja Nla (Yoruba for 'big fish'), as the Nigerian would come to be known later, had landed himself a really big fish.
Everyone gushed about the alluring video vixen, the wad of dollar bills used as rolls of toilet paper and how good the trio looked together. It would go on to be the definitive moment for D'banj's international career which blossomed after the release of Oliver Twist, the single that would go on to become a UK Top Ten hit the next summer.
D'banj eventually became the first home-based superstar. His success was a deviation from the model adopted by artistes such Asa and Nneka who migrated abroad to flourish, having been empowered by the enabling atmosphere of their new base. Here was a made-in-Naija boy who had grown in leaps and bounds, his success fuelled by the tenacity to survive the jungle that is the Nigerian music industry.
In June 2011, after months of speculations and rumours, rapper and agent provocateur Kanye West signed both Don Jazzy & D'banj to G.O.O.D Music. The latter featured in the label's compilation EP, Cruel Summer, making a cameo appearance even in the video for Mercy, alongside fellow label mates Pusha T, Big Sean and of course West. Furthermore, fans were treated to a surprise appearance from Yeezy at the Koko concert in London. With the unprecedented success of the Oliver Twist single and the announcement of international deals, first with Mercury Island Records and then Sony Music, it seemed like D'banj had finally struck gold. Nothing could possibly go wrong. Or could it?
The kokomaster's success had an expiry date, it seems. The magic that truly captivated everyone – from designer Giuseppe Zanotti who once sent him a custom-built pair of sneakers, to reality TV star Kenya Moore who allegedly paid $40,000 to have D'banj pose as her boyfriend – is withering away. His recent singles have not been as infectious as their predecessors were and since Oliver Twist, not one has been as big a hit as any of those released in the era of the defunct Mo'Hits. Even G.O.O.D Music, it seems, has parted ways with the flamboyant entertainer.
In his two years' with the label, there was neither a tour with Kanye nor a major collaboration. There was the forgettable track with Big Sean and Pusha T who performed in Nigeria, the sub-par verses from Yeezy himself on the Scapegoat remix and vocal credits of a line or less on the Cruel Summer EP. Save for those and the Yeezy cameos – at the London Koko concert and in the Oliver Twist video – D'banj seemed to be on the label's roster only in name.
Was the deal worth the hype? Should D'banj have listened to advice from partner Don Jazzy and strengthened his hold on the home front before attempting to break new grounds in the US?
"Looking back, it almost seems like it was a huge publicity stunt because there is really nothing to show for it", argues Arinze Obikili, US-based blogger and founder of Jaguda.com. "When you compare it with 2face who collaborated with T-Pain, and featured on another song with him and Akon," explains Arinze who is known in Nigerian social media circles as Aribaba, "and Wizkid who is rumored to be on a song with Young Jeezy and The Game, you see that D'banj pretty much wasted two good years with Kanye, going for something that he could have attempted by himself".
After all the fanfare that greeted his G.O.O.D signing, what might have informed Kanye's decision to drop him from the label; so soon and without any recognizable impact? Aribaba theorizes: "I think it was a business decision. Perhaps he thought that the US wasn't ready for mainstream African music or that he had overestimated D'banj's value. Seeing as most of the artistes signed to G.O.O.D Music have great singing or rapping skills, and D'banj has neither, he probably thought it wasn't worth the effort trying to force him down the US audience's throat or figure out what to do with him. What would've been ideal is if Don Jazzy stayed. In that case, Don Jazzy would've worked with D'banj, and the G.O.O.D Music brand would have been the package around what they would have done to sell to the US market".
Foladele Falana, an entertainment journalist with TV Continental, questions the motive for the signing. "Our excitement about the whole deal was in vain," she muses. "I don't see that he was noticeably more successful with them than when he wasn't. It shows that you don't even need to be signed to an international record label to make it".
Nothing more for Oliver Twist
His away form has trailed him back home, as the story is no different; a number of mediocre singles have been released under his newly established DB Records since his marriage to Kanye and the end of the defunct Mo'Hits. D'Kings Men, a compilation album on his new label got a mention in the New York Times, but was nevertheless less than stellar. Furthermore, his usually high performance ratings have been inconsistent – there was the lacklustre performance in Zimbabwe where he was booed off stage as he ran out of popular songs to perform. Raise Your Glasses, the Hennessy Artistry song has not fared well. His single, Bother You, for the soundtrack of the film adaptation of Half of a Yellow Sun is as cheesy as it is unspectacular, with ThisDay writer, Ayodeji Rotinwa commenting: "Were I not judging it per its mesh with the movie, I'd call it a fine piece of sonic rubbish. I daresay it even falls under D'banj's customarily low standards." Indeed, save for that octane-level verse on the groovy remix of Naeto C's Tony Montana, nothing new from the kokomaster has really stuck.
The Koko Music Empire is on the verge of disintegration and its head honcho has turned to his business ventures to save face, launching products as random and diverse as garri and mobile phones. It doesn't end there, however. According to a reliable industry source, D'banj literally begged to be featured on songs by KCee and up-comer Burna Boy (Emmah and Won Da Mo respectively) to 'stay relevant' in the industry. Both acts established themselves as A-list stars in the three years in which Eja Nla bustled back and forth between Nigeria, the UK and the US.
When begging did not work, he resorted to other means, as was the case with Blame It on the Money, a track which was supposedly 'bought' from Durella. Both men released their versions successively, confusing the public and causing fans to debate on ownership of the song. Furthermore, he unsuccessfully attempted to sign Durella, Olamide and other artistes, going as far as authorizing misleading press releases. Eventually, he ended up with DeeVee and 2Kriss, who are yet to release official singles on the label, and his brother Kayswitch.
It stings to think that things were not always like this. Once, D'banj was the undisputed king in an arena where his touch was the major and telling contribution, rather than the minor one. After returning to Nigeria from a sojourn to the UK in the 2000s, he began a joint effort which was named Mo'Hits Records. It was one of the first modern labels around, challenging the monopoly of Kennis Records, with D'banj as the lead act.
Not since Fela Kuti had another performer so wonderfully captivated fans with his energetic performances on stage. While both men weren't abundantly blessed in the vocals department, their dexterity with instruments was a common denominator. Fela was a saxophonist who could play other instruments, while D'banj brought fame to the harmonica. And while the one had Tony Allen, the other had Don Jazzy.
He branded himself as the quintessential showman with major input from his partner who was styled in the manner of a Sicilian mafia don; getting credit and loyalty, but speaking only when necessary. They were an instant hit with fans across Nigeria and soon enough, the rest of the African continent.
"They were like 5 and 6," reminisces Nkem Okafor, another blogger. "It was a partnership like never before and they complemented each other so well, they could almost pass for brothers". This chemistry was reflected in songs like Tongolo, Why Me and in the Curriculum Vitae and Entertainer albums which showcased them at the peak of their partnership. Among those also signed to the label were their siblings, KaySwitch and D'Prince, who would remain at the periphery for years, as the crew rotated around the two henchmen and another signing, Wande Coal.
Good things don't last forever however, and so their partnership and by extension, friendship came to a poignant end. As with everyone who gets a whiff of success, D'banj was thirsty for more. After the initial frenzy that greeted the duo's international signing, the cracks began to appear. Eventually, they split, citing irreconcilable differences and betrayals. That may have signaled the descent of D'banj's creativity, because while Don Jazzy has since set up Mavin Records and begun lending his beats and those lovable hoarse vocals to various hits, all his estranged partner has is a list of near-misses.
 The life and times of Daniel Anderson
What went wrong? "Looking back, one is tempted to say that maybe D'banj should never have rushed to sign with Kanye West," says Aribaba. "Musically, he hasn't been the same since he jumped ship to G.O.O.D Music".
D'banj also fired his longtime manager, Bankuli over an internal disagreement and signed on Mr. Tony Nwakalor, former manager of both Olamide and Tonto Dikeh. With a reputation for being overly arrogant, perhaps it was a perfect alignment.
Arrogance is widely known as one of the former Mo'Hits front man's traits, and in the period after his G.O.O.D Music deal, his ego grew accordingly. In the grand scheme of things, D'banj's personal quirks may not count for much, but it disenfranchised the public and was likely one of the factors that caused the change in his music fortunes soon after his G.O.O.D Music deal. First, the name on his social media accounts was changed in May 2012 to Daniel Banjo Anderson, a name he confirmed during an interview at Choice FM, London. It was immediately assumed that he had acquired a superiority complex and the new identity was an attempt to distance himself from his Nigerian roots. The bashing on Twitter only increased when his Nigerian name returned to his bio and he claimed that he had been hacked.
Tempers rose again in December of that year, when he apologized, albeit sarcastically, for making fans walk several kilometers through the sands of Eko Atlantic Beach to attend his Koko Concert (lightheartedly nicknamed the Koko Trek). He was forced to apologize again on Twitter, properly this time, citing overwhelming logistical failures as the reason for the trek.
His lack of a producer has also been advanced as the main reason for his musical misfortunes. Since losing Don Jazzy, the kokomaster's usual coordination and delivery has been missing. The Jay Sleek-produced Oyato came surprisingly close, but still lacked the production genius the singer has been used to. He employed the services of DeeVee, a young producer signed onto his label, but the formula is still lacking the 'magic' element.
An Abuja-based DJ speaking on condition of anonymity expressed his view: "That guy is finished without a producer like Don Baba J. Most of those who call themselves producers today are just beat makers. Don Jazzy tailors the beat to your strength and even he can't blend with some artistes."
Falana agrees. "I don't think D'banj will ever be as great an artist without Don Jazzy or Mo'Hits as he was with them. I've never thought he really had much substance as an artist, but being the beast that he is, Don Jazzy was able to make him look good. Plus they had good chemistry so they were a powerful duo. They were made for each other," she concludes.
The general notion is that if they were made for each other, then they can find each other again. Last year, both men were pictured working in the studio, alongside Maybach Music artiste, Wale and Olamide. It prompted speculations that a reunion which would be mutually beneficial for both parties could be underway. Popular OAP and brother-in-law to D'banj, Dotun Orekoya alluded to this in a recent interview, saying "I believe that something might happen. The love is still there, no doubt about it, and they have done music together regardless of whatever they are doing. They are actually good in their own different industries. It is entertainment and there is nothing we can't see."
Falana, obviously disappointed with the split, says, "D'banj is just everywhere. Homie should just come back home. Mo'Hits is the answer to whatever he's looking for up and down. And frankly, I think the Mavins might be missing some D'banj flavour".
Others flat out disagree.
"People keep speaking of this false equivalence," says music critic Emmanuel Osanedum. "But it's nonsense really. This is the truth: in the same period within which D'banj released the ironically titled Don't tell me nonsense and others, all flops, Don Jazzy has owned the market."
Indeed, Osanedum may have a point. From Tiwa Savage's 'Eminado' to 'Surulere', the single which has become a viral sensation, there is no gainsaying that when it comes to music D'banj is no match for his former producer.
Getting back together?
Critics have argued that it might be hard for the 'ailing' superstar to survive for the next decade in the music business without descending into the dredges of obscurity. An A&R for a popular Nigerian music label posits that this may not be the case. "Even though I've questioned his relevance as an artiste a lot lately, I realize that we Nigerian listeners love 'unserious' music and D'banj is just that. He is no conscious artiste trying to save the world through music, so for that reason, he'll probably last – if he has the right team behind him".
"What keeps a musician famous and relevant is not all these celebrity moves – it is the hit songs that keep the engine of fame running. Ask 2face, ask Psquare," said John Okonedo, a self-confessed audiophile and student at the University of Lagos. "Unfortunately, D'banj's head is so far up his arse that he might not even see how fast he has gone into darkness".
That, we think, is the real tragedy, because the kokomaster's talent, well managed, is truly in a class of its own.
Written By Eromo Egbejule.
THOUGHTS?!