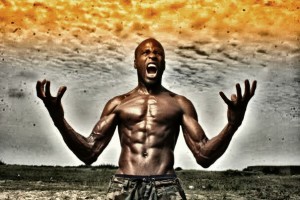 UPDATE 4/10/15:  It has come to our attention that our earlier report on Ikechukwu enrolling at the New York Academy to study acting is wrong.
The rapper says he completed his acting classes as far back as 2013 and is apparently in NYA to study Editing and Directing at the moment not acting. Looks like he's trailing his co-artistes path after all…..
Here's what he shared on social media:
Biko Ikechukwu, we are sorry!!  Blame it on our excitement for you.
---
You've just gotta love our Nigerian celebrities. As soon as one starts a trend, others tend to go along  sharply! On the bright side tho, it's for a good thing this time around.
Remember when BankyW enrolled for a directing course at the prestigious New York Film Academy, shortly after Mavins artiste Dr. Sid also followed in Banky's footstep to study directing at the same academy where he graduated just last week . Now, rapper Ikechukwu has also deemed it necessary to travel outta Nigeria for a course and he's chosen none other than the New York Film Academy albeit a course in acting.
The ex-Storm Records act shared a picture on his Instagram page with the caption: "Early Class is kicking my ass . #nyc #nyfa #CANTSTOPWONTSTOP."
Ikechukwu is not new to acting on the Nigerian scene as he's featured in some movies including short film, 'The Wages' directed by Walter 'Walt Banger' Taylaur which won the Best Short Film category at AMVCA 2014. He's also snagged a recurring role in 'Gidi Up' season 2.
Obviously, Ikechukwu has gone to sharpen his acting skills, does this mean we'll be seeing him regularly in our Nigerian flicks….?