Kiddominant has revealed his intention to compose a 5-track E.P that includes only Nigerian and South African artistes.
He says he is composing this E.P in order to have these artistes say an absolute "No" to Xenophobia and further foster the once existed unity among Nigerian artistes and South African artistes.
Kiddominant made this known through his Insta story and it has got mixed reactions from Nigerian music fans already.
He wrote; " I'm gonna create Nigeria X South Africa 5-track E.P featuring only South African artists that are against Xenophobia. We need to unite and fight against haters and segregation amongst Africans."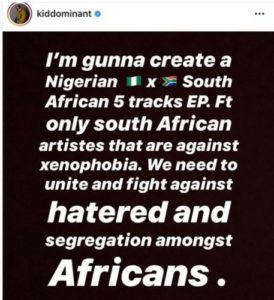 ---