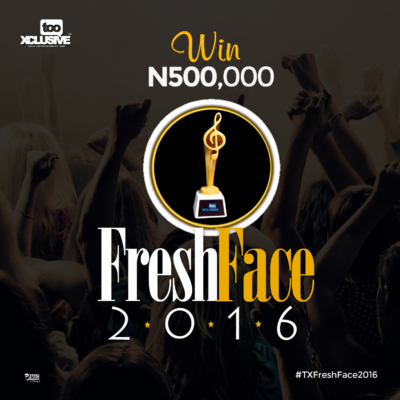 tooXclusive since inception, has maintained her primary objective of giving an esteemed crop of artistes in the upcoming category, a global audience platform where users can access a variety of music material without hassle and to a wide network reach.
Over time, new and aspiring music stars continue to find solace in the bosom of tooXclusive. One too many artistes have shared testimonies of how a tooXclusive feature for their song or music video has availed them opportunities in lurking. And this is exactly what the #TXFreshFace2016 competition is aimed at – to reward the efforts of upcoming artistes who with hardwork and persistence, haven't rested on their oars in the quest to becoming the industry's next big thing. Only this time, it is coming directly from the tooXclusive platform, not in party like usual.
In the light of the afore-mentioned, tooXclusive is giving a free beat produced by the highly sought-after wicked producer, Young John, for artistes to show their sense of creativity in competition. To participate in the #TXFreshFace2016 competition, read the instruction below.
1. Download the #TXFreshFace2016 instrumental
2. Record any original song or freestyle performance of your choice
3. Mail to [email protected]
Contesting artistes stand the chance of winning N500,000 in grand prize, an all-exclusive studio recording session with Young John the wicked producer who will also handle the technical necessities in music production, a feature on the nominations catalogue for this year's tooXclusive music awards and other additional freebies that will be revealed as the competition progresses.
***Entries close on 7th of November, 2016***
Download the #TXFreshFace2016 instrumental below and make sure to peep the instructional cover as well.
Let's get this moving people!