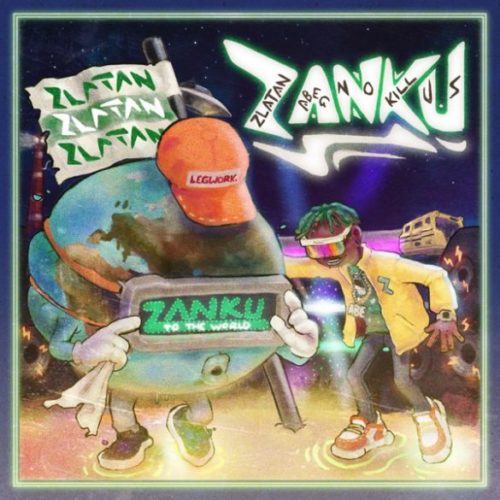 A couple of weeks ago, I published an article on 4 albums that may just not pop and Zlatan's name came up on that list. Judging by the reception his debut album 'Zanku To The World' has continued to release, the gospel truth is Zlatan has finally confirmed he is nothing more than a passing fancy and this 17 track album is a bloated test of patience, a repugnant dump on music lovers.
One may not be right to lay all the blame on Zlatan for having flooded this project with so many Zanku music, because to be honest, prior to the unleashing of this body of work, the rapper pulled in massive numbers with his single 'Legwork', probably the same reason he thought it wise to again smother the country with more of such mediocre record in hopes of cementing his dominance in this era of streaming, however, this ambitious swing of his, landed him in a puddle of artlessness.
With the introduction part done, let's do a quick dive into the tracks one after the other.
Wake Up: As expected of many Nigerian artistes, they start their albums with a prayer-filled lamenting/reminiscing piece, to again remind us of their struggle before attaining some level of flickering stardom alongside the one 'skill' every Nigerian mother is expected to hone 'prayer'.Zlatan's lack of energy in delivering his lines did an awesome job turning this Spellz-produced track into a snooze-fest.
Yeye Boyfriend
Produced by Rexxie, Zlatan did a fine job waking people up with this groovy beat. Lurking in the shadows of Davido's 'Assurance,' the rapper discussed men who are not buoyant enough to take care of their women, in the end, advising women to do away with such men. This 'ayiiiii-ridden' piece at this point has instilled the spirit of anxiety in me as I am now in search of one or two records on this project that will stand out.
Sunita
Going back to his favorite hobby, slut-shaming/body shaming women, 'Sunita/Super Power' served as his vehicle for this theme. 'Super Power' which features Davido, somewhat birthed a reason for anyone to listen to this project as it saw the light-bulb in the rapper's suddenly come on with the choice of beat, a somewhat Northern music vibe, employed for the song. I feel this sound may dominate the year 2020.
Love & Gain
4 songs into this project and exhaustion is an understatement. This track is a sad attempt at rapping, an attempt the rapper mixed with what I presume he thought is singing. The production on this is is quite engaging but all of this came to a halt from the very first note  voiced.
Gbeku
An unnecessary collaboration with Burnaboy. In a bid to snag yet another hit as they did with 'Killin Dem,' all they did was further put to fore the reason some collaborations just should never be. The song not only bland, the blandness was also further propelled to the fore with the terrible mixing and mastering employed on the record, uninspired lyrics and a catchy yet meaningless chorus by Burna.
Carryover
Someone may need to relay to Zlatan that it is possible to sound a bit sensible without his overpowering need to slut-shame women. First sounding like a child fighting his second bout of convulsion with spittle drooling from each side of his mouth, he managed to take the sexiness out of the inability to pronounce the 'r' sound.
'Shotan, Scopatumana, If You No Know, alongside the rest of this cringe-worthy 'ayiiiiiiiii' screaming filled records is a drag, a nebulous drag bag created without care. Throughout the album, Zlatan sounded like he was grasping desperately at the last straw to stay in the limelight.
Listening to this album is almost the same as listening to orphaned records that failed to make a home in the project of upcoming acts. The need for cohesiveness in a bid to cast a wider net at pleasing all variety of music lovers was felt all through the album yet lacked the power to do this as it only reeked of the artiste' prowess in creating a web of amazing forgettable attempts to please his fans as well as the music industry.
As to a legitimate reason to sit through the entirety of this project, none can be given as this body of work was mainly made up of needless songs, redundant/meaningless choruses, and forgettable bridges alongside inconsistent rhythm, downright sad production and lack of vision for the album's progression.
'Zanku To The World' is an embodiment of missteps that could have been easily avoided; by simply not having recorded any of the songs therein.
P.S: Please note that the words are solely that of the writer's and do not in any way represent the views of Tooxclusive
Written By: Tope Delano
@tope_delano
---